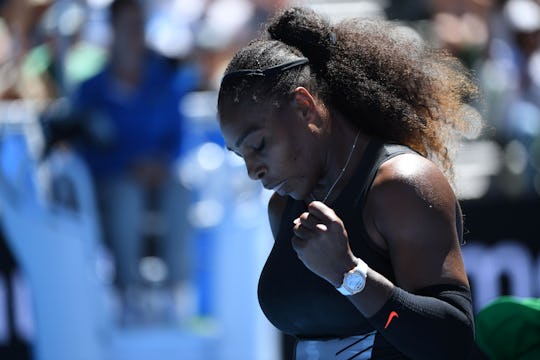 WILLIAM WEST/AFP/Getty Images
Serena Williams Is Going To Compete For The First Time Since Giving Birth
Serena Williams has had an amazing year. Williams started off 2017 with a bang, by winning the 2017 Australian Open and then just a few short months later, revealed she was expecting her first child with fiancé Alexis Ohanian. In September, Williams gave birth to that daughter, Alexis Olympia Ohanian Jr. and seems to be loving motherhood — but the amazing tennis player can't take too much time off. This week, it was announced that Williams is going to compete for the first time in four months after giving birth — but this is a double edged sword. While it is great that she has this amount of maternity leave, some mothers don't get to have this kind of luxury.
Can we just marvel at how bad ass Williams is, first? Last January, Williams won the 2017 Australian Open and set a record for winning 23 single Grand Slam titles. But after her victory, Williams was absent from the court for a while, for obvious reasons. While she appears to be loving motherhood, it seems like her return back on the court might happen a little sooner. On Tuesday, the Australian Open's tournament director, Craig Tiley, told the Associated Press, that Williams would be back to defend her title, this upcoming January. Tiley said, according to Bleacher Report:
Serena will be back. We look forward to welcoming her and again go on that journey of breaking the all-time record for most number of Grand Slams.
Heck yeah.
Although four months seems like a short period of time to return back to work after giving birth — it is not. In the United States, women are legally obligated to 12 weeks of unpaid maternity leave through the Family and Medical Leave Act. But a percentage of women (29.4), according to the U.S. Department of Health, don't take any maternity leave. Even six years ago, the average length for maternity leave was 10.3 weeks, or a little over two months, and it has remained consistent since then, according to CBS News — showing no upward or downward trends.
And although women are legally allowed to take up to 12 weeks of paid, some doctors recommend that women should take longer than that. One study conducted in 2013, according to Women's Health, found that women who took longer maternity leaves for up to 12 months were better protected against postpartum depression.
While it is great that Williams felt up to par to return back to work, most women are forced to return earlier than four months due to financial reasons although science (and their newborn) proves they should take a little more than that. Williams should be applauded for going back to work so soon, especially since she doesn't have to. But on the other hand, four months off of work for some mothers is a huge blessing.
Still, in spite of that, there is a huge reason to celebrate Williams' return to the Australian Open — because she was pregnant with her daughter while playing in the tournament and winning the Grand Slam title. Talk about one trophy that will stick with her for the rest of her life.
During an interview with Vanity Fair in June, Williams revealed that she handed her fiancé a paper bag containing six pregnancy tests letting him know that she was pregnant the night before she was set to compete in the tournament. Williams told Vanity Fair that after seeing the results of the test she thought, "'Oh my god — this can't be. I've got to play a tournament. How am I going to play the Australian Open?'" But Williams persevered, played the tournament and won. According to Vanity Fair, Williams was eight weeks pregnant at the time.
Williams definitely won't have the extra anxiety about being pregnant while playing in the Australian Open in four months. But Williams will have one more person to bring home her trophy to when she inevitably wins the title, again. Not to mention, her daughter might even be there to witness it this time. More power to this incredible new mother.