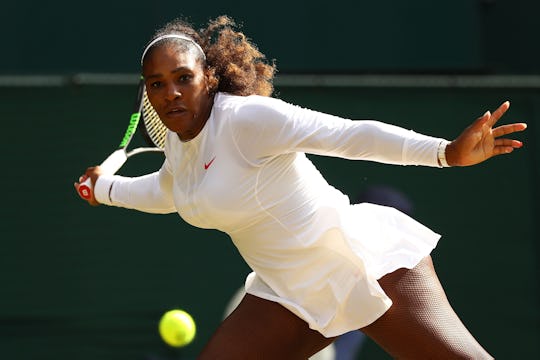 Michael Steele/Getty Images Sport/Getty Images
Serena Williams Is "Heartbroken" That Alexis Olympia's Favorite Sport Isn't Tennis
Although I can't say for sure, it seems as though children of world-class athletes and celebrities probably grow up with at least the slightest bit of pressure to "follow in their parents' footsteps" — whether or not this pressure is overt. At the very least, offspring of highly-talented individuals are probably encouraged to have an affinity for what their famous parents do for a living. And when it comes to her toddler daughter, champion tennis pro Serena Williams is no exception. However, apparently Serena Williams is "heartbroken" that baby Alexis Olympia's favorite sport isn't tennis.
In a recent interview with E! News at Lotte New York Palace 2018 Invitational, Williams opened up about work-life balance, as well as what little Alexis Olympia is up to these days. And apparently, the nearly-1-year has taken quite the liking to one sport in particular — just not the sport her mother happens to play professionally. "She's actually playing soccer," Williams told the E! News reporter. "I'm a little heartbroken about it ... But oh well," she added, with a laugh. Clearly Williams isn't actually devastated that her daughter has taken a liking to a sport that isn't hers. (Besides, I'm guessing it's a little easier for an 11-month-old to kick a soccer ball than it is for her to hit a much smaller ball with a racket.)
During this same interview, Williams also addressed that elusive "work-life balance" parents are always striving to find. "It's hard," she told E! News. "It's not easy being a working mom, but that's what we do. Women are strong and we are continuing to be, so I'm really proud of that." So is finding a real, true balance even possible? Williams seems to think so.
I think there is. The thing is, you just have to find it ... I'm not sure if I've found it yet, but I'm getting there. I'm finding my personal work-life balance.
Interestingly, Williams has managed to make Saturday news headlines in the tennis realm as well, but not for the reason you might think. That's because the French Open — at which Williams made her grand slam debut in May after giving birth to her daughter in September — has decided to ban the black catsuit she wore during the first three rounds of the tournament, USA Today reported. (Before she had to drop out because of an injury.) "It will no longer be accepted," French Tennis Federation president Bernard Giudicelli told Tennis magazine, according to BBC News. "I believe we have sometimes gone too far. You have to respect the game and the place."
Um, say what?!
Although fans were rightfully p*ssed about this decision, Williams insisted it "wasn't a big deal." "The Grand Slams have the right to do what they want to do," Williams said, according to BBC. "If they know that some things are for health reasons then there's no way that they wouldn't be OK with it."
In case you're wondering, the reason she was wearing the catsuit in the first place was to help prevent blood clots — which for the record, nearly cost her her life after giving birth to her baby girl. As Vogue reported, Williams had suffered from a pulmonary embolism after delivering her daughter via emergency c-section in September, 2017. On May 28, Williams posted a photo of herself wearing the kick*ss suit, also writing, "Catsuit anyone? For all the moms out there who had a tough recovery from pregnancy—here you go. If I can do it, so can you. Love you all!! So yeah. This whole not having "respect for the game" nonsense is utter bullsh*t.
Nike even got in on the recent catsuit controversy, taking to Twitter to declare, "You can take the superhero out of her costume, but you can never take away her superpowers. #justdoit."
Although the French Open uniform rule change is maddening AF, hopefully Williams will be able to channel this (inner) rage into her performance at the U.S. Open in just a couple of days — and hopefully secure her 24th grand slam title in the process. In the meantime, though, I wouldn't worry too much about Alexis Olympia's love for soccer, mama. Your little one still has plenty of time to fall in love with the sport to which you've so passionately dedicated your life. (And if not, soccer's pretty cool, too.) From one working mom who still doesn't have this whole work-life balance business figured out, I'm rooting for you!