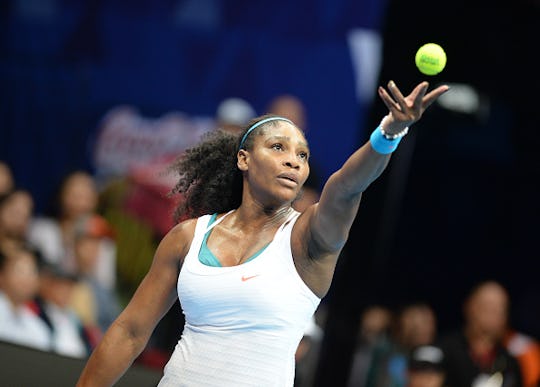 Serena Williams Is 'Sports Illustrated's Sportsperson Of The Year, & That's A Huge Victory
It's been an impressive year for sports, one that's been full of standout athletes celebrating major wins. But even with fierce competition, Serena Williams still found a way to come out on top. It was announced Monday that Williams is Sports Illustrated's Sportsperson Of The Year — and that is no small feat, especially since she had to battle through unexpected losses and injuries to get there.
But even with obstacles in her way, Williams still dominated the tennis scene, showing, as usual, that she is a force to be reckoned with. Despite rounding out the year with a surprising U.S. Open upset, it was otherwise full of record-breaking plays, having earned a 53-3 record and winning titles at three different major tournaments. She spent six weeks more than doubling the ranking points of her closest competitor, even while pushing through recurring knee and elbow injuries. And with 21 career Grand Slam singles titles under her belt, she is just one shy of matching Steffi Graf's record (one experts are expecting her to easily beat by the end of the summer).
And, oh, did I mention that Williams is the first solo female to earn the Sports Illustrated title in over 30 years?
Williams reacted to the news in a statement according to USA Today, saying:
This year was spectacular. For Sports Illustrated to recognize my hard work, dedication and sheer determination with this award gives me hope to continue on and do better. As I always say, it takes a village— not just one person. This is not just an accomplishment for me, but for my whole team and all my fans. I am beyond honored.
Although Williams performance on its own makes her an easy choice for the title, Sports Illustrated notes that there were other aspects that placed her at the top of the pack. Having been on the receiving end of racial discrimination during a tournament at Indian Wells in 2001, Williams said she refused to return. This year, 14 years later, she went back, hoping to use that experience as a learning experience and as a way to encourage conversation about a still-taboo topic.
Williams made a difference in other ways, too, by standing up against relentless body-shaming that has followed her throughout her career. She fearlessly called out Internet trolls on social media, and confidently showing off her body in this year's Pirelli calendar, sending a message to the world that she is proud of her body (as she should be!). When asked about the most recent batch of body-shaming comments on Good Morning America back in September, Williams stood up for herself unapologetically:
I've been like this my whole life, and I embrace me and I love how I look. I love that I am a full woman, and I'm strong and I'm powerful and I'm beautiful at the same time. And there's nothing wrong with that. I just don't have time to be brought down. I have too many things to do, you know. I have Grand Slams to win. I have people to inspire. And that's what I'm here for.
A killer, record-shattering athlete, total body image role-model, and a generally, all-around badass? Yeah, I'd say Sports Illustrated made the right choice.
Images: TED ALJIBE/Getty; Giphy