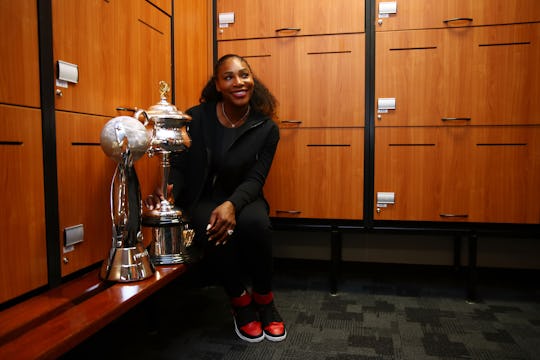 Clive Brunskill/Getty Images Sport/Getty Images
These Badass Moms Show Exercise Isn't Unfit For Pregnancy
It didn't take long after 35-year-old tennis star Serena Williams announced she was 20 weeks pregnant for savvy internet sleuths to determine she had been pregnant when she won the Australian Open.
That puts her in the category of fit mom. Really fit mom.
She's not alone: Women are breaking gender barriers in both sport and career and at the same time smashing societal norms surrounding physical activity in pregnancy. Historically, pregnant women have been advised by friends, family, and medical professionals not to become too active while pregnant. Yet that is beginning to change. The American College for Obstetricians and Gynecologists has said that "pregnancy is no longer considered a condition for confinement."
While no specific guidelines have been released about safe upper activity levels, a study of elite athletes has shown, "more vigorous exercise during pregnancy by women who are well trained pre-conceptually has also been shown to have no adverse effects on the course of pregnancy or labor or on the fetus."
But moms who aren't elite athletes benefit from exercising in pregnancy, too. A paper by Dr. Raul Artal, one of the leading researchers in this field, suggests pre-pregnancy activity levels can be safely upheld, with some modifications, throughout pregnancy. He also suggests moms who weren't very active before becoming pregnant can make lifestyle modifications to become more active as well — but, importantly, should only increase their activity levels gradually and "can begin with as little as 10 minutes" daily.
Meaning — if you aren't already training for the Olympics, don't take pregnancy as a moment to start. But if you are already training for the Olympics — then what? That's what Sarah Brown, an elite track and field athlete tells Romper she had to decide.
"I had never even thought much about it before I became pregnant," says Brown, whose journey to trial for the U.S. Olympic team in Rio was chronicled in the ESPN short film Run Mama Run. It's available online as a series and premiering in film form at Tribeca Film Festival this month in New York. "I always thought I would stay active throughout my pregnancy but I never really thought about what was the social norm."
Brown was an elite athlete and a favorite for the Olympic team in the last cycle. But she noticed changes in her body that worried her and her coach, her husband Darren. That's when she went to the doctor and discovered she wasn't sick, but — unexpectedly — pregnant.
Her due date was just six weeks away from the trials to make the Rio team. When she decided to train through her pregnancy, director Daniele Anastasion grabbed a camera and, with Brown's permission, documented the whole process.
"There were a lot of naysayers and critics," says Anastasion about Brown's decision. "Especially on the internet. There seems to be this especially harsh judgement from the Internet. She had a lot of people who didn't think she could make it."
A particularly emotional scene from the footage shows Brown reading online comments from strangers who have opinions about her decision.
One commenter called her selfish, saying she was "thinking of herself and not her baby." Another comment that Brown reads to the camera in the film says "she's already a whack job, can't imagine what kind of parent she'll be."
"You do still get the criticism and a bit of backlash," says Brown. However, she says she noticed a shift occurring across society.
"It is definitely a time where there is a change happening in what the norm is," says Brown before adding, "I think women are redefining what is possible. They're going away from the idea that pregnancy is an injury and you need to sit on the couch."
That's what 34-year-old Sylvia Flores, from Los Angeles, embraced during her recent pregnancy. Flores, who was an active ballet dancer through her teens, and got into CrossFit in adulthood — placing fifth at the 2011 CrossFit games.
"I always just stayed active and had to exercise in some way or form," Flores tells Romper. When she got pregnant that passion didn't stop.
"I would listen to my body and work out whenever I had the energy to go," says Flores. In her second trimester she was at the gym five days a week. Flores has a video of herself doing squats and rowing just hours before she went into labor.
"I've been working out all my life and that's why when I got pregnant I continued working out," she says. She faced some criticism from family members and an old dance teacher who suggested that her workout routine might be excessive. But it was all doctor approved, and she gave birth to a healthy, strong baby girl. "For me, I knew I was very intuitive with my own body from working out all my life, so I knew my limits."
Both moms agree that listening to their bodies was critical in determining what exercises were appropriate to do, and that medical advice was an essential component in their plans.
"There's a lot of elite athletes we know who have announced that they're pregnant and they're continuing to stay active and do the things that they're accustomed to," says Brown. She says as long as you communicate with your doctor, "if you were doing it before you were pregnant there's no reason you shouldn't be able to do it while you're pregnant."
Elite athletes, like Brown and Flores, have more efficient bodies and are able to keep very high levels of activity throughout pregnancy. Women who weren't as athletic before becoming pregnant can still be active throughout their pregnancies, but, as Dr. Artal's paper suggests, not to an elite degree.
Brown did run in the Olympic trials six weeks postpartum with her husband and baby girl cheering her on from the stands.
While Brown didn't make the team, she realized she had something bigger than she imagined: a family.
"By the end, family represents something more than making the team could have," says Anastasion, who grew close to the Browns during the production of the documentary.
"When it comes to the trials, just going was a big winning moment in itself," Brown says. She was proud she could use her story to say something beyond just winning or losing in a sport — but to speak to a moment and a culture shift for mothers.
"I definitely had an outpouring from people who could relate on some level to my journey, to my story," says Brown.