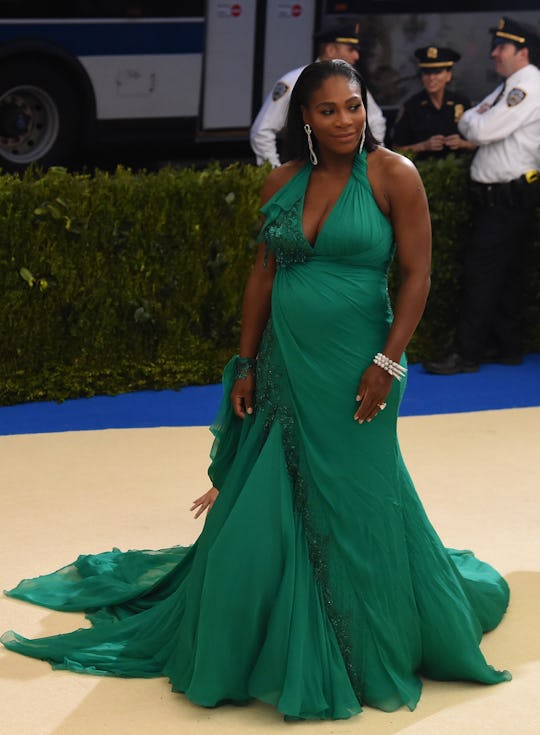 Nicholas Hunt/Getty Images Entertainment/Getty Images
Serena Williams Just Made A Big Decision About Her Pregnancy
Gender reveal parties are trendy, but opting to be surprised instead can be just as fun. Serena Williams' most recent pregnancy choice shows that she's definitely in one of the two camps, and it's a pretty big decision. The tennis superstar shared her reasoning as to why she's waiting to learn the sex of her baby on her Instagram account, in a short and sweet way. Though fans were really hoping for a last word on the subject, even Williams is staying out of the loop for now.
"So few surprises in life these days, that's why I'm waiting to find out the sex of the baby," Williams shared with her followers, ensuring that the birthday of her firstborn will be even more amazing. Though it'll be a bit longer before we know much more about her child with fiancé Alexis Ohanian, Williams' fans were eager to offer their guesses as to what sex the baby will be. As you might expect, the responses were pretty much split right down the middle.
But this decision shouldn't come as a total shock. In the past, Williams has indicated that she'll probably keep the baby's gender a secret, writing in an Instagram text post on Jun. 1: "I think the surprise of knowing what you are going to have on that very special day you give birth is prob the best surprise you can ever have!"
Even though Williams' baby is due in late August or early September, she's by no means slowing down just yet. True, she's not competing in tennis matches at present, but she is still playing (because, let's fact it, she's a superhuman). In her current "off-season," Williams is still grinding; She joined the board of SurveyMonkey in May, looking to help infiltrate the tech sphere and make it more accessible for other minorities in the industry. "Silicon Valley is really, really, really not open yet to having a lot of women or anyone of color, male or female," she shared. Thus, as a board member, she finds it "really important ... to not just be a seat warmer but to really be a voice." If anyone can add value to such a conversation, Williams can.
Following Williams' pregnancy journey has been so fun thus far, from her stunning Vanity Fair shoot with Annie Leibovitz all the way back to her initial Met Gala debut. Williams has remained strong, outspoken, and forever posting pregnancy selfies, which we can't thank her enough for. Calling it now: By the end of this year, she'll be your number one mom crush.