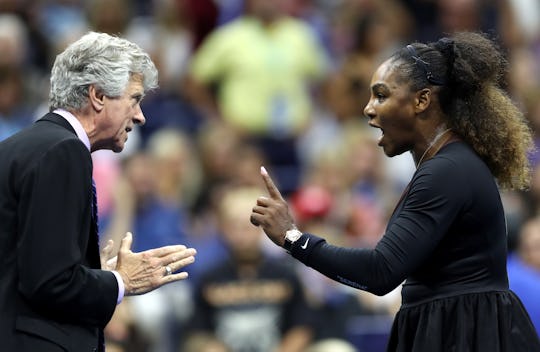 Elsa/Getty Images Sport/Getty Images
Serena Williams Losing The U.S. Open Has Twitter In An Uproar Over Sexism In Sports
Those who have been following Serena Williams' return to professional tennis following the birth of her daughter — and subsequent complications that nearly cost her, her life — know the 23-time grand slam winner was hoping to make history this week at the U.S. Open. Winning that 24th title would have officially tied the all-time grand slam title record. It's something she's been working toward for a long time. Unfortunately, it just didn't happen for the tennis champ during the finals on Saturday, Sept. 8. And Serena Williams losing the U.S. Open has Twitter in an uproar over blatant sexism in sports.
Even though she was seeded 17th going into the U.S. Open, Williams ended up making it to the finals on Saturday. (Which is pretty darn impressive, considering all of the physical hurtles she has overcome in the past year.) During the first set of Williams' match against Naomi Osaka, chair umpire Carlos Ramos gave Williams a violation, saying that she had gotten illegal coaching — via a thumbs-up from her coach, according to Us Weekly. Williams took it upon herself to clear things up with the umpire, approaching his chair following the call. "If he gives me a thumbs up, he's telling me to come on. We don't have any code, and I know that you don't know that, and I understand why you may have thought that was coaching — but I'm telling you it's not," Williams told Ramos. "I don't cheat to win, I'd rather lose. I'm just letting you know."
Later on, Williams smashed her racket after being broken on the serve, according to NBC Sports. This resulted in a secondn code violation warning — leading to a point penalty. After being docked a point, Williams again argued about the first violation. "I didn't get coaching. You owe me an apology," a visibly upset Williams told Ramos. "I have never cheated in my life. I have a daughter and I stand for what's right for her. I have never cheated. You owe me an apology." During a change of ends, Williams continued to lay into the referee, telling Ramos, "You will never, ever, ever be on another court of mine as long as you live. You are the liar. When are you going to give me my apology? You owe me an apology. Say it. Say you're sorry. … And you stole a point from me. You're a thief, too!""
The word "thief," apparently, is what broke the camel's back — because Ramos proceeded to call a game penalty for verbal abuse.
Ultimately, the tournament umpire came onto the court, and Williams continued:
This is not fair. This has happened to me too many times. Do you know how many other men do things that are a lot worse than that … It's because I'm a woman.
Not long after this, Williams lost the match 2-6, 2-6, according to Us Weekly. In light of Williams calling out the ref for his behavior, the tennis star was extremely sportsman-like when Osaka won the final point. The competitors met at the net and hugged. (However, she refused to shake hands with Ramos.)
Despite the heartbreaking loss, Williams also instructed the crowd to stop booing her opponent when it was all said and done. "Well, I don't want to be rude, I don't want to do questions. [Osaka] played well, this is her first grand slam," she said, according to People. I know you guys were here rooting. Let's make this the best moment we can. Let's not boo anymore. We're gonna get through this and we're gonna be positive. No more booing!"
Williams herself elaborated on the sexist behavior during a press conference after the match, CBS News reported. "You definitely can't go back in time, but I can't sit here and say I wouldn't call him a thief again because I thought he took a game from me," she said. "But I've seen other men call other umpires several things and I'm here fighting for women's rights and women's equality and all kinds of stuff, but for me to say 'thief' and for him to take a game? It made me feel like it was a sexist remark. I mean, he's never taken a game from a man because he said thief. For me, it blows my mind."
Plenty of Twitter users also pointed out the sexism of the ref's behavior. One person tweeted, "The hypocrisy of the umpire to penalize @serenawilliams in a sport that celebrated the antics of John McEnroe and Ilie Nastace is a blatant display of sexism #usopen."
Another Twitter user wrote, "This match is such a case study in the b.s. women have to deal with: Serena Williams calling out a man for treating women differently and Naomi Osaka feeling like she has to apologize for winning.The whole thing stinks on hot ice."
Another Twitter user pointed out, "So let me get this straight: @serenawilliams shows her emotions during a game and sticks up for herself, and she is described as "having a tantrum." But male athletes do the same — across many sports — and they are described as "being competitive." #usopen."
I'm at a loss for words, here. Like so many other fans, I'm heartbroken that Serena Williams wasn't able to claim her 24th grand slam title on Saturday. However, I feel that Williams made a valid point about the chair umpire's blatant sexism — and I'm royally pissed on her behalf. It's hard not to wonder, too, how the match might have ended had that game penalty not happened. I guess we'll never know. Hopefully, she can channel her outrage over what happened today into a renewed passion for the game — and come out victorious at the next opportunity that comes her way.