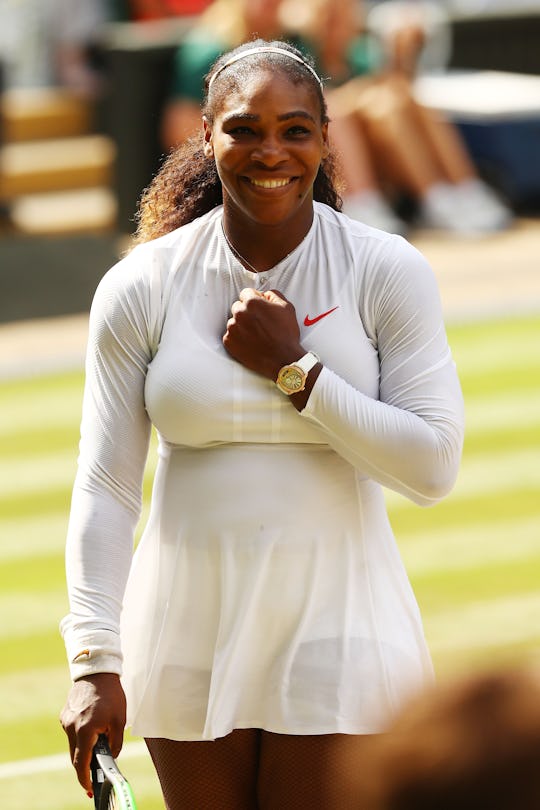 Matthew Stockman/Getty Images Sport/Getty Images
This Is What It Takes To Overcome Maternity Discrimination
When world-champion tennis star and 2018 Wimbledon finalist Serena Williams was deseeded post-pregnancy from the French Open earlier this year, there was an outpouring of emotion. Some condemned the governing body of being unfair, equating the move to workplace punishment for having a child. Others were of the mind that other tennis players had worked hard during the length of Serena Williams' maternity leave and thus were more deserving of the seeded position. Yes, she worked her way back up to number 25, and into the finals at Wimbledon, but many saw her setback as a high-profile and unabashed example of what happens to women's careers after they start a family.
No one doubted Williams could claw her way back — she was unseeded for her championship win of the Australian Open back in 2007 — the greater issue was that despite being allowed to participate in the French Open, she was placed at an immediate disadvantage despite holding the number one world ranking title for a total of 319 weeks (the third-longest streak of all time). The question it raised was: what grace period are we willing to give a high-achieving woman in the workplace before we erase her accomplishments and standing?
The birth of her daughter was not the first time Williams had to step away from the court. There have been injuries, severe health complications, and the murder of her older sister in 2003. Despite these tremendous obstacles, she always managed to bounce back. Williams' ability, perseverance and sheer skill have seen her consistently at the forefront of competition since she began her professional tennis career. She is, in every sense of the word, exceptional.
A no-seed or low-seeded position in a tournament means a higher chance of getting knocked out in the earlier rounds in a tournament; going into the French Open without a seed placed at her at a disadvantage for both prize money and a championship title. It was a seemingly small setback, yet one that could derail someone who isn't so far beyond the competition, and so bent on success. So what about the average woman?
The parallels between Williams finding herself subject to indifference from the world tennis ranking body, and a typical woman feeling hostility in the workplace, are worth exploring.
The average maternity leave in the United States is around 10 weeks, according to the National Center for Health Statistics. However, doctors and advocates say that recovery from childbirth can take longer. Childbirth, motherhood and the host of complications associated with both vary from person to person. In the January 2018 issue of Vogue, Serena Williams revealed the severe health complications she experienced during and following childbirth — despite her asserting that something was wrong. As Williams' husband poignantly explained of her postpartum experience, "Consider for a moment that your body is one of the greatest things on this planet, and you're trapped in it."
Setting aside the out-of-this-world insane athletic ability, the gigantic arenas with thousands of spectators and the multi-million-dollar sponsorships, the parallels between Williams finding herself subject to indifference from the world tennis ranking body, and a typical woman feeling hostility in the workplace during and after pregnancy, are worth exploring.
Currently, the Family and Medical Leave Act (FMLA) protects a woman's job title for 12 weeks following birth. Under the FMLA, William's world ranking would have been protected were it a "job." At the time of the French Open, she still held technically the number one position — but not according to the organizers, inciting outrage from opponent Maria Sharapova, who said she was in favor of protecting seeding during maternity leave.
In the workplace, having the law on your side when you return from maternity leave is reassuring. However, workplace discrimination goes beyond simply hiring and firing. Being overlooked for promotions, opportunities, or other work-related responsibilities is harder to prove on paper and troublingly pervasive. The Equal Employment and Opportunity Commission and state counterparts recorded 31,000 maternity discrimination claims between October 2010 and September 2015. And the law does a poor job of protecting women from more ambiguous types of discrimination.
Rachel,* a 35-year-old actress residing in Los Angeles, California, says the normal pressures that come with the job are extrapolated the moment casting directors discover your pregnancy. "I'm always type-casted in mother roles, so I thought being pregnant would help. But in auditions, the problem is sometimes you're not pregnant enough, or in other cases, you're too pregnant and they're worried you're going to go into labor on set."
Despite the protection of maternity leave and a guaranteed return of your original job title, this lurking fear of "ambiguous discrimination" can affect any woman of childbearing age. In an interview, when a recruiter asks you to describe your passions and goals for the next five years, there's pressure to conjure a response that alludes to every single goal except motherhood. A Cornell study found that where "functionally identical" resumes that differed only in identifying a candidate as a mother were presented to undergraduates, 84 percent of participants said they would hire the non-mother; just 47 percent would hire the mother. There is no interest in hearing about your plans to buy a house, paint the picket fence, and start a family. And yet, the most recent figures performed by the Census Bureau showed that 86 percent of women in the United States have had a child (by the end of their childbearing years). At the same time, men are actually rewarded in the work place with a 6 percent increase in pay for becoming fathers, according to research by Professor Michelle Budig at the University of Massachusetts, Amherst.
I ended up rehearsing my speech in front of the mirror literally around 50 times... My husband on the other hand couldn't wait to tell his co-workers, knowing how happy everyone would be for him.
In her book Lean In, Sheryl Sandberg wrote that "women are quietly checking out of their careers, years before they actually start a family." She believes women rarely make a sweeping decision to give up work to look after children, but instead make a string of choices from early on that propel them towards that end result, nonetheless. "These women don't even have relationships and already they're finding balance, balance for responsibilities they don't yet have. And from that moment, they start quietly leaning back (from their careers). The problem is, often they don't even realize it."
When a man makes a choice to become a father, he isn't presented with the fear of repercussions in the workplace. There's no pressure to hide a pregnancy and a fear of losing out on future promotions and responsibilities are merely non-existent.
Simone,* a 32-year-old Harvard-educated CPA, said the the news that she and her husband were expecting was received vastly differently at their respective workplaces. "I drafted an email around 30 times to send to my boss, but then I decided it would be better to verbally announce my pregnancy. So then I ended up rehearsing my speech in front of the mirror literally around 50 times," she recalls. "My husband on the other hand couldn't wait to tell his co-workers, knowing how happy everyone would be for him."
A quick Google search of "how to hide my pregnancy at work" revealed endless pages containing advice and suggestions. There were even feature articles written by women who were retelling their own personal experience of feeling pressure to hide their pregnancy at work, usually for fear of being overlooked on a promotion, or worse, losing their job. On the second or so page of search results, there was an article about which clothing brands work best to hide a baby bump. This is a realistic portrait of what is means to be a working woman of childbearing age in 2018: working with only partial protection.
The proposed Pregnant Workers Fairness Act, currently in a Senate subcommittee, is one framework that could enable relief for pregnant working women. It will effectively "prevent employers from forcing pregnant women out of the workplace and help ensure that employers provide reasonable accommodations to pregnant women who want to continue working." It will also provide protection for workers affected by a known limitation to pregnancy, childbirth or related medical conditions. However, it's legislation that, as of today, still remains overlooked by Congress.
The Pregnancy Discrimination Act of 1978 (PDA) was established to protect workers from pregnancy discrimination and put forth the message that discrimination on the basis of pregnancy, childbirth or related conditions is illegal sex discrimination. Furthermore, it ensured that treatment and benefits were the same for both non-pregnant and pregnant workers with regards to their ability or inability to work. Still, in addition to the 31,000 pregnancy discrimination charges filed, a study conducted in 2013 determined that 250,000 women per year are denied the reasonable accommodations they need and request during their pregnancies, according to the Pew Trust.
The idea that a high-performing woman who takes time out of her career to have a child forfeits her successes, client list, standing, and esteem from colleagues, seen so plainly in the treatment of Serena Williams, is both everyday and extraordinary.
Many women appreciate the strides society has taken to create a more accommodating and equal workplace, but at the same time acknowledge ongoing systemic discrimination around women of child-bearing age. The story of Williams' path to the finals at Wimbledon the same year she gave birth and overcame traumatic complications should be inspirational, but in fact it is a lesson that unless you're superhuman, there's no guarantee you'll ever get back in the game.
*Not their actual name.