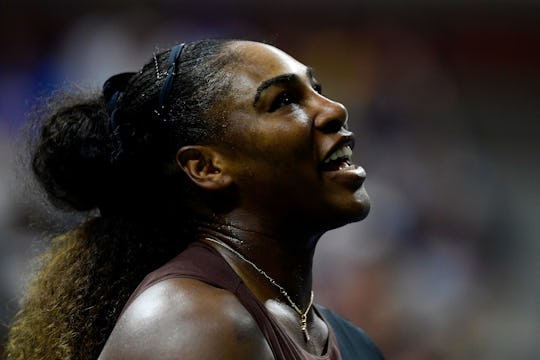 Sarah Stier/Getty Images Sport/Getty Images
Serena Williams Shared The Perfect Photo Of Herself With Her Daughter After The U.S. Open
On Saturday, Sept. 8, the world looked on in both confusion and outrage as the U.S. Open final played out in dramatic fashion. One call by an umpire accusing Serena Williams of cheating ended up derailing the entire match. It was met by the tennis star defending herself and calling out the official for what she, and many others, viewed as sexism in sports. Ultimately, the umpire declared a game penalty against Williams, and she then demanded an apology from him. However, following her heartbreaking defeat, the tennis pro has resurfaced on social media. And Serena Williams' photo with her daughter Olympia after the U.S. Open is giving fans all sorts of feels.
On Monday, Williams took to Instagram to share a photo of herself and her 1-year-old daughter, Alexis Olympia, snuggled up together on a chair, beneath a "Moana" blanket. The photo is caption-less, and yet to the 23-time grand slam champion's followers, it spoke volumes. As People reported, many fans noticed Olympia's protective-looking glance in the photo. One follower commented, "Olympia's lookin at that umpire the same way we were!"
Singer Estelle chimed in with, "Yes Alexis. That's how we feel too #protectmommy."
Another follower wrote, "Even her daughter has the look on her face like......she is still owed an apology. LOL. Thank you. #teammom."
Yet another Instagram user wrote, "Yes Olympia, girl. We're tired of all the bullsh*t too..."
Other Instagram followers took the opportunity to show their support for Williams in the aftermath of the U.S. Open. One person commented, "We love you, Serena! You and your beautiful family are such an example of love, mutual support, perseverance, and courage. Thank you for sharing your life and gifts with us! We're here praying for you and cheering for you!"
Another Instagram user wrote, "💕Love you Serena! You are an amazing role model for all women and your baby girl!!!!!! We love you."
Yet another follower commented, "Serena I love you! Keep standing for what you believe in. You're an inspiration to many, myself included! ✊🏽"
Still others noted Williams is exactly where she needs to be right now — and she seems to be doing just fine, despite this past weekend's events. One follower wrote, "At the end of the day, that's all that matters."
Another person chimed in with, "That's what it's all about! 💗"
Yet another follower wrote, "Olympia 'My mommy is still winning! She has me!' 💘💘💘"
It's worth noting that despite her argument with the chair umpire, Williams acted in a very sportsman-like way toward her opponent, 20-year-old Naomi Osaka. Following the match, Williams hugged Osaka and even silenced the crowd's booing on the awards podium, according to The Guardian. Unfortunately, this did little to curb the harsh criticism directed at Williams for sticking up for herself.
A blatantly sexist and racist cartoon — which appeared in Monday's edition of the Australian newspaper The Herald Sun — pretty much sums up the typical, white male reaction. Still, plenty of prominent voices came to the tennis star's defense, while also calling out the sexist, racist cartoon, as Us Weekly reported.
"Well done on reducing one of the greatest sportswomen alive to racist and sexist tropes and turning a second great sportswoman into a faceless prop," J.K. Rowling tweeted.
Right now, it seems as if Serena Williams is exactly where she needs to be: Spending quality time with her family. Standing up to sexism as the whole world judges you — and while many reduce you to a tantrum-throwing baby — has to be exhausting. Even though Williams knows she did the right thing, I would imagine all she wants to do right now is tune out the noise for a while before refocusing her energy on tennis. And if she reads any of the comments of her Instagram posts, Williams will see that so many people support her and appreciate her conviction and bravery.