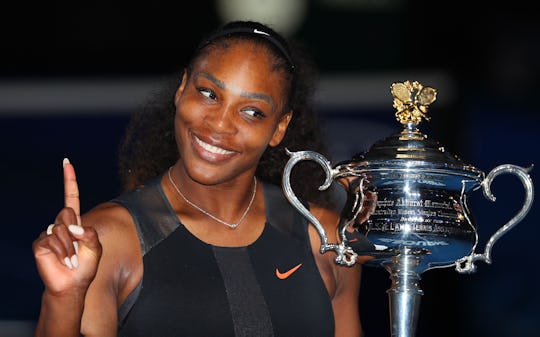 Scott Barbour/Getty Images Sport/Getty Images
Serena Williams' Words About Her Fiancé Prove True Love Exists
Serena Williams is on top of the world, it seems. The 35-year-old tennis player recently (and accidentally) announced that she's pregnant, and also shared the exciting news that she's engaged to the (relatively unknown) tech mogul and co-founder of Reddit, Alexis Ohanian, 34. Oh, and on top of that, she won the Australian Open while pregnant. So yeah, you could say she's crushing it. But while the tennis star is killing it in the career department, her love life is equally on point — and all of Serena Williams' quotes about Alexis Ohanian prove to even the most cynical of us that true love does exist.
Even though Williams admitted that she hadn't meant to announce her much-discussed pregnancy the way she did, she isn't too embarrassed about letting the news slip out to the public. Because even though the Snapchat she put on her story was meant to be private, she has since posted about her sweet little bump on her Instagram page as well, confirming her pregnancy.
But that's not all Williams has been candid about. She has also been more than happy to discuss her relationship with Ohanian, and how she knew he was the one. And even though Williams and Ohanian are both pretty private about their relationship, the times Williams has opened up about about her fiancé speak volumes.
On Knowing Ohanian Was "The One"
During a TED Conference interview with Gayle King, Williams was asked how she knew her fiancé was "the one." And her response was equal parts funny and genuine.
"I'm ... not going to say that [out loud]," she responded. "But he's very loving and he's very kind. My mom said 'He's very considerate.'" And as most children know all too well, a mother's approval is just about the highest stamp of approval a girl can hope for.
On Her Refusal To Settle
During the same interview with King, Williams made very clear that she wasn't one to settle, and that marrying Ohanian meant something very special to her.
"I love my life, I love my freedom, and I love my career," she said. "I always felt I didn't want anything to interfere with that." But clearly, with her upcoming nuptials to Ohanian, Williams has found the one person she believes is right for her.
When She Took A Minute To Reflect During The Australian Open
Speaking at a press conference in Melbourne during the Australian Open, Williams took a minute to reflect on her recent engagement to Ohanian.
"It feels good," she told reporters about being engaged. "I really haven't thought about it too much, because I wasn't even really gonna think about it until after the tournament. So, I just keep saying, 'February, I'll start looking at the bigger picture of my life.'" And obviously, she had every right to stay focused on tennis at the time, as she ended up dominating and later winning the tournament. But it's still sweet to see her excited about the engagement in the midst of such craziness.
When She Announced Her Engagement With A Poem
Back in December, when Ohanian popped the question, Williams proved herself to be quite the wordsmith, as well as pretty meta. Taking to Reddit, she posted the following poem:
I came home/A little late/Someone had a bag packed for me/And a carriage awaited/Destination: Rome/To escort me to my very own "charming"/Back to where our stars first collided/And now it was full circle/At the same table we first met by chance/This time he made it not by chance/But by choice/Down on one knee/He said 4 words/And/r/isaidyes
Clearly, Williams and Ohanian are a happy couple, and will soon be amazing parents. Congrats, you two! Keep being in love, and being the awesome role models you are.