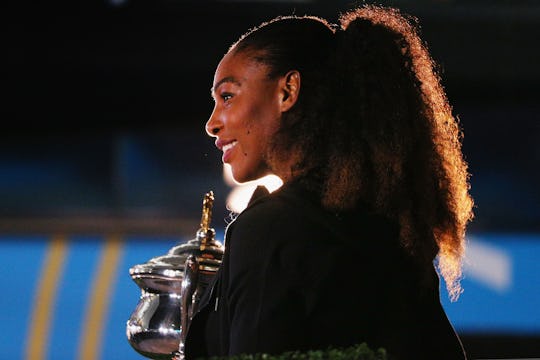 Michael Dodge/Getty Images Sport/Getty Images
Serena Williams Will Be A Badass Feminist Mom
There's no doubt that Serena Williams is one of the greatest tennis players of all time. The amazing athlete is powerful both on the tennis court and off — her words resonate with many and she is an excellent role model for children to look up to. Because of this, it's pretty much guaranteed that Williams will make an excellent role model for her child (the soon-to-be mom announced her pregnancy last week). In fact, Serena Williams' many feminist quotes more than prove she'll be an equally feminist mom, too.
Last week, Williams announced that she and her fiancé, Reddit co-founder Alexis Ohanian, are expecting their first child together and that she's due to give birth this fall. This news was not only incredibly exciting, but it came as a bit of surprise. The timing of Williams' pregnancy means that she won a grand slam while pregnant, according to CNN, which is not an easy feat. This power that Williams possesses, as well as her position as a role model, pretty much proves that she's going to make an amazing mother. Not only that, but Williams' words — from body image to equality — show that she sort of already knows how to raise her child right.
Just take a look for yourself.
On Equality
[I want to] see people, the public, the press, other athletes in general, just realize and respect women for who they are and what we are and what we do.
In a July 2016 interview, according to The Telegraph, Williams talked about seeing women for what they do and respecting them as such — no asterisks or side notes about their womanhood.
During the same interview, the interviewer referred to Williams as "one of the greatest female athletes of all time," to which Williams replied, "I prefer 'one of the greatest athletes of all time.'" Badass.
On Equal Pay
In an essay penned in The Guardian this past November, Williams addressed the need for equal pay for the genders, and even hinted at a potential future with children. "I would never want my daughter to be paid less than my son for the same work," Williams wrote.
On The Importance Of Dreaming Big
In the same essay for The Guardian, Williams wrote:
It is my hope, that my story and yours, will inspire all young women out there to push for greatness and follow their dreams with steadfast resilience. We must continue to dream big, and in doing so, we empower the next generation of women to be just as bold in their pursuits.
Williams' message of dreaming big and making things happen will definitely carry over to her child, regardless of their gender. After all, her unborn child's parents have accomplished some pretty big things — and with the right support from mom and dad, their future success is a sure thing.
On Staying True To Herself
In 2015, several people took issue with Williams' cover for Sports Illustrated, in which Williams sat on a golden throne, looking regal. According to The Independent, people criticized the cover for looking too sexy — but Williams defended the photo. "I personally think that when we can be ourselves, you'll know women have power," Williams said of the cover.
On Supporting Others
The success of every woman should be the inspiration to another. We should raise each other up. Make sure you're very courageous: be strong, be extremely kind, and above all be humble.
Williams' words about successful women, according to Entrepreneur, show that Williams understands the importance of supporting each other — raising other women up instead of tearing them down. Lessons like these are important for everyone, especially children — and budding feminists — to learn.
On Embracing Inner Beauty
You can be whatever size you are, and you can be both beautiful inside and out. We're always told what's beautiful and what's not, and that's not right.
In 2009, Williams gave People a valuable lesson about inner beauty. No matter what a person looks like, they are beautiful — and no one should tell them otherwise. In an age where a woman's worth is still so largely dependent on her physicality and beauty, Williams' words are a refreshing change of pace.
Give her own prescribed wisdom, it's a sure bet that Williams' child will be raised in a home where they can be who they want to be, and can believe in their own power. There's nothing more important or feminist than that.