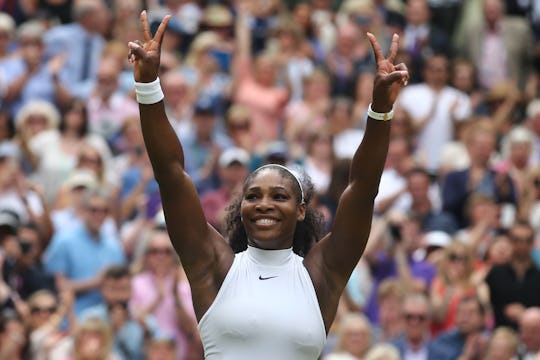 JUSTIN TALLIS/AFP/Getty Images
Serena Williams Reads Maya Angelou Poem At Wimbledon & It's Truly Inspirational
Serena Williams, possibly one of the best tennis players of all time, won her seventh Wimbledon singles championship on Saturday. Before her victory against Angelique Kerber, Serena Williams read her favorite Maya Angelou poem and it's truly inspirational and goosebump-inducing to watch. In a video montage, the tennis champion recited "Still I Rise" — saying the iconic poem has served as a source of inspiration for her leading up to this historic win and throughout her career.
The powerful footage — aired by the BBC on Saturday afternoon — shows Williams' life as a tennis player, depicting her victorious wins, phenomenal accomplishment, and even some painful moments from the beginning of her career until now, as she reads Maya Angelou's powerful words.
Her Wimbledon victory isn't first time she's quoted the famous American poet. During her acceptance speech for the Sports Illustrated Sportsperson of the Year award last year, Williams called Maya Angelou her favorite poet and even recited part of poem at the ceremony in 2015, while speaking about her struggle to gain respect and acceptance in the tennis world as a black woman.
"I've had people put me down because I didn't look like them — I look stronger," Williams said during her acceptance speech in 2015. "I've had people look past me because of the color of my skin. I've had people overlook me because I was a woman. I've had critics say I would never win another Grand Slam when I was only at number seven and now here I stand today, with 21 Grand Slam titles. And I'm still going."
And she kept going as she claimed her 22nd Grand Slam title, equaling the Open Era record currently held by Steffi Graf, which is a pretty big deal.
According to The LA Times, Williams also spoke up after her Wimbledon victory about overcoming obstacles to reach your dreams, truly reflecting the inspirational and triumphant tones of "Still I Rise." She said:
"I've been given such a great opportunity. I've been given so much talent. I've been in a position where I can inspire ladies and men as well. Anyone, any kid out there that wants to be something, has dreams. I've had great dreams. I didn't come from any money or anything, but I did have a dream, and I did have hope. That's really all you need."
Williams' long list of career accomplishments and victories certainly speak true to Maya Angelou's poignant words — "Still I Rise" is known as one of the poet's most famous poems, written in 1978, which scholar Carol E. Neubauer described as "a hopeful determination to rise above discouraging defeat."