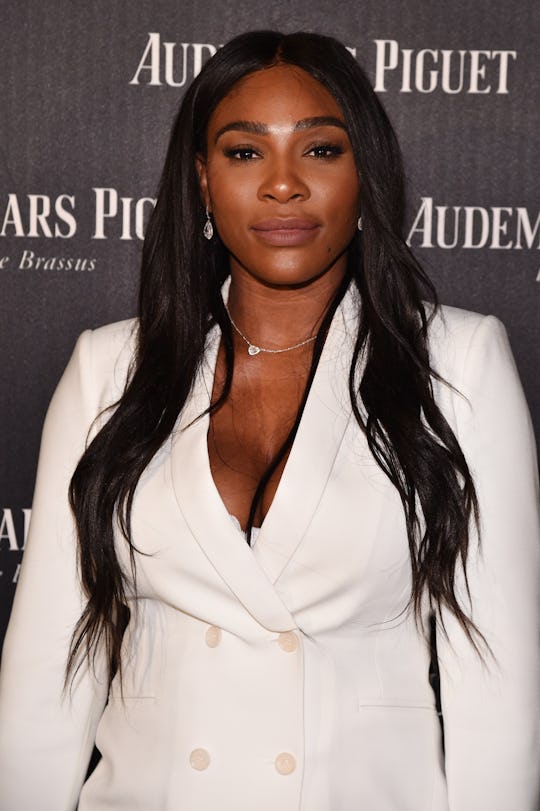 Bryan Bedder/Getty Images Entertainment/Getty Images
Serena Williams Writes Reddit Engagement Poem
I never have been into watching or playing sports. But one day when I was 10, my dad wanted me to watch Serena Williams in a tennis match. He was excited to show me a black female tennis player dominating in a mostly white sport. On my own, I watched Serena play against her sister Venus at the U.S. Open in 2001. I rooted for Serena, perhaps because she was the younger sister and I wanted root for the underdog. I've watched her over the years, and she's one of the few celebrities I admire. So when it was announced on Thursday that Serena Williams got engaged to Reddit founder Alexis Ohanian, I was excited and happy for her. Even more sweet? Serena Williams wrote an engagement poem on Reddit for her fiancé.
Williams and Ohanian's relationship hasn't exactly been public. The only picture of the couple that has been posted on social media was of the two of them dressed up for Halloween. So when news broke on Thursday that the two are engaged, fans were shocked.
Rather than the story being leaked by paparazzi or gossip sites, Williams took control and announced their engagement by writing a poem. But she didn't post it on Instagram like she did with the picture of her with Ohanian: instead she chose the perfect place for it on Reddit. The poem reads:
I came home
A little late
Someone had a bag packed for me
And a carriage awaited
Destination: Rome
To escort me to my very own "charming"
Back to where our stars first collided
And now it was full circle
At the same table we first met by chance
This time he made it not by chance
But by choice
Down on one knee
He said 4 words
And
r/isaidyes
From what it sounds like, the happy couple got engaged in Rome, which is really romantic.
The two have been dating since 2015, Us Weekly reported. When the two first met, Ohanian had never even been into tennis. Now look how much has changed!
Ohanian commented on Williams' post, replying "And you made me the happiest man on the planet."
Ohanian's post features a cartoon image of the happy couple, with the words "Future Mrs. kn0thing," which refers to his Reddit username kn0thing.
A source close to Williams told E! News that "never seen Serena this happy before with a man."
"It sounds cheesy, but it was love at first sight," the source said, also noting that Serena is excited to plan the wedding. "They laugh non-stop and that really fuels their relationship. They are on the same page in life and are excited to start something great with each other and build and grow a family."
The fact that the couple shared the news publicly is surprising, considering the fact that Williams doesn't like talking about her love life. "That's something that I just really don't talk a lot about, that I just keep totally separate and totally private," she said in an interview with Fader.
Serena Williams deserves all of the happiness exuding from her poem — she's faced a mountain of criticism throughout her career, especially about her race and her appearance, and her happily ever couldn't come at a more perfect time.
Congratulations to the happy couple!