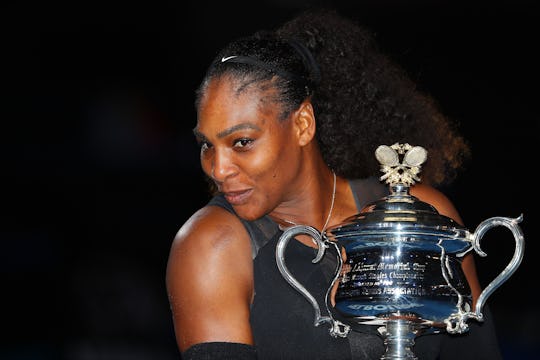 Scott Barbour/Getty Images Sport/Getty Images
Serena Williams Reacts To Racist Pregnancy Comments
It's good to know that, in certain corners of the world, there are still consequences for bad behavior. For example, at a press conference at the Fed Cup in Romania, 70-year-old former tennis champion and Romanian team Captian Ilie Nastase was overheard saying of Serena William's unborn baby, "Let's see what color it has. Chocolate with milk?" (Williams' fiancé Alex Ohanian is white, in case you missed it.) On Monday, Williams responded to Nastase's racially charged comments about her and her family, in addition to saying that she supports the International Tennis Federation's investigation into the incident.
Williams wrote in an Instagram post:
It disappoints me to know we live in a society where people like Ilie Nastase can make such racist comments towards myself and unborn child, and sexist comments against my peers.
She then went on to quote Maya Angelou's poem, "Still I Rise," writing, "This or anything else will not stop me from pouring love, light and positivity into everything that I do. I will continue to take a lead and stand for what's right." Williams added, "I have said it once and I'll say it again, this world has come so far but yet we have so much further to go." She acknowledged that there many "barriers" that have been broken but noted that there are a "plethora" more to knock down.
In response to the investigation, Nastase told the Associated Press that he thinks Williams is his friend and asked, "I want to know, what word I used is racist?"
This isn't the first time that Nastase and Williams have had tension between them, of course. Earlier this month, Nastase accused the tennis champ of doping because of her body type. "Do you see how she looks," he asked? (Williams has never failed a drug test.)
Nastase, who earned himself the nickname "Nasty" back in the day, doesn't have the best record when it comes to general courtesy. After news of his comments broke over the weekend, Nastase called Press Association Sport tennis correspondent Eleanor Crooks "stupid" for reporting on the incident in the first place. "You're stupid, stupid," he said.
Great Britain's captain, Anne Keothavong, also reported that Nastase made her feel "uncomfortable" on a few occasions during the Fed Cup by allegedly making inappropriate remarks, and publicly and "jokingly" asking for her hotel room number, according to The New York Times. The Romanian team captain also reportedly called her and teammate Johanna Konta "f---ing bitches" in a rant that got him ejected from the court.
It's very likely that Nastase doesn't think his comments were racist or sexist (he stated as much to reporters when questioned about each incident), but it's probably time he realizes that the world has changed — and that saying derogatory things about and to women (whether intended or otherwise) is just not acceptable.