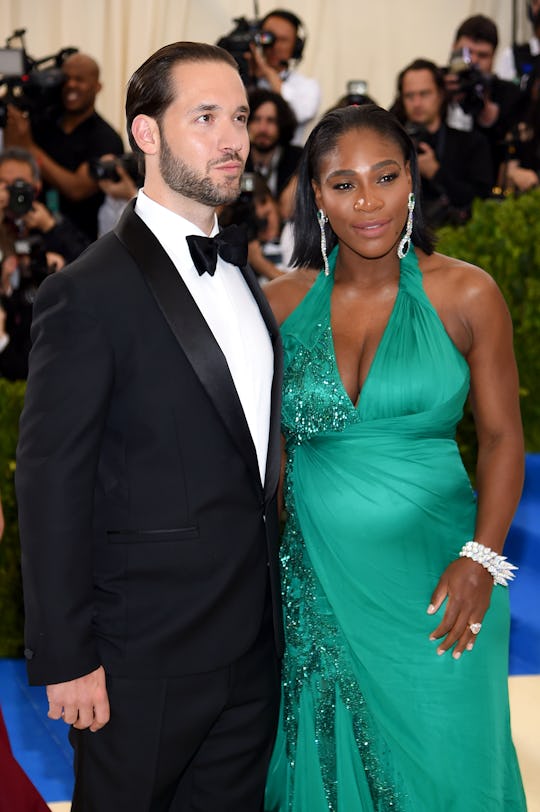 Dimitrios Kambouris/Getty Images Entertainment/Getty Images
Serena Williams Revealed The Amazing Habit 8-Month-Old Olympia Has Already Learned From Her
Serena Williams is a role model to so many young girls out there who aspire to accomplish just half as much as she has in her life. She's a world renowned tennis player, philanthropist, and just continues to inspire people everywhere to follow their dreams. When Williams welcomed her daughter — Alexis Olympia Ohanian Jr. — with her husband, Alexis Ohanian, she became a role model for new moms, too. So imagine if you were Williams' child and had her as a mother to look up to. While some people might think that these are some pretty big shoes to fill, Williams revealed that Olympia already takes after her in a super special way and it'll warm your heart.
When Williams gave birth to Olympia in early September, her life changed completely — and in the best way possible. In the months since then, Williams and Ohanian regularly post the sweetest photos of their daughter and it's clear that they have so much love for their baby girl. In a Q&A session on her Twitter account on Wednesday, Williams got real with fans about her daughter, revealing a few more little details about Olympia that you've likely never heard before.
Although Olympia might share a first name with her dad, Williams revealed that Olympia has already started showing signs that she is going to take after her mom. The biggest indicator? The fact that Olympia "never quits," Williams tweeted.
Babies tend to never want to quit. Whether they refuse to quit crying, refuse to nap, or refuse to give up on learning to walk or stand up for themselves. Babies are pretty determined little humans and the fact that Olympia is already exhibiting this at 8 months old is pretty great.
It could be a skill that, like her mother, she puts to good use and channels into her tennis game. Although Williams did reveal on Twitter during the Q&A session that she wasn't sure if Olympia will be a tennis star like her. "I'm not sure if Olympia will pick up tennis but we will see!" Williams tweeted.
But, of course, this Q&A session didn't just reveal how Williams' daughter takes after her. Williams revealed other parts about her life as a mom that some fans might not have known about otherwise. She shared that every single day that she spends with her daughter is her "favorite mommy moment," that the Disney film, Moana, was her favorite to watch while she was pregnant, and that she can't wait to take Olympia to Disney World one day (she told one Twitter user that it was the main reason why she lives in Florida).
As for her first thoughts when she became a mom? Williams told a Twitter user to tune in to her five episode HBO mini-series airing every Wednesday for the next few weeks to see how she felt in that exact moment.
Honesty is a pattern when it comes to Williams and her daughter. She was super open with fans about her insecurities before having her baby girl. And once she did give birth, Williams later used her platform to talk about how she and her daughter suffered from complications after birth, having the power to reach (and help) so many other moms out there. In an interview with Vogue earlier this year, Williams revealed that after she had given birth to Olympia, she had suffered from a pulmonary embolism and spent the first six weeks of motherhood in bed recovering.
Williams' updates about her daughter and her personality are so sweet and much welcomed from fans who have seen the little girl grow up over the past few months. Now they get to relive those early moments with Williams and see inside her family's life with her new HBO special, making the people behind these updates a little more real and so much sweeter.
Check out Romper's new video series, Bearing The Motherload, where disagreeing parents from different sides of an issue sit down with a mediator and talk about how to support (and not judge) each other's parenting perspectives. New episodes air Mondays on Facebook.