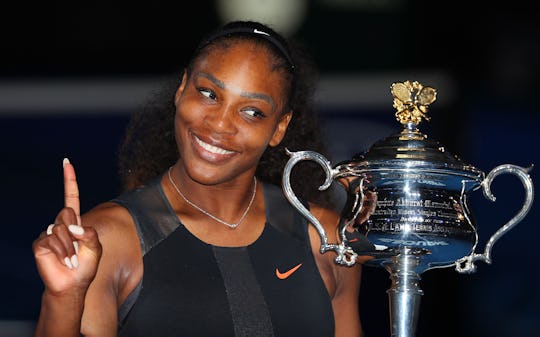 Scott Barbour/Getty Images Sport/Getty Images
Serena Williams' Reason For Getting An Epidural is Relatable AF
Luckily, our generation has been blessed with a plethora of powerful women who are taking over the world with their strength, wit, and skills. And one of those women leading the pack? Tennis pro Serena Williams, of course. Not only is she an Olympic gold medalist and world record holder for number of Grand Slam titles, but she's also a soon-to-be new mom who has consistently been down-to-earth about the whole pregnancy thing. The latest reason? Williams has revealed her birth plan and her reasons for it are beyond relatable.
After news broke that Williams and her fiancé, Alexis Ohanian, were expecting their first child, people everywhere have been obsessed with Williams' pregnancy. And now that's she's shared how she wants her delivery day to go, fans will likely only grow more obsessed with the tennis star. It's equal parts relatable, honest, and important.
Speaking to Vogue for their September issue — yes, Williams is in the September issue, as she should be — the expectant mom was candid about her pregnancy and what she was expecting to happen after her water broke.
"I'm not a spring chicken," she told Vogue of her decision to not have an all-natural birth. "The one thing I really want is an epidural, which I know a lot of people are against, but I've had surgeries galore, and I don't need to experience any more pain if I can avoid it." And honestly, even though Williams should not have to defend her birth plan decision at all, her explanation is still on point.
Williams is a professional athlete, which means that she takes extremely good care of her body. However, it also means that her body has been through some pretty intense training, and has undergone numerous surgeries, as she mentioned to Vogue. So, yeah, Williams wants an epidural and that's totally OK. In fact, as Vogue pointed out, Williams' pregnancy is actually pretty risky:
Since 2011, when she was hospitalized with bilateral pulmonary embolisms following foot surgery (months earlier she had stepped on a piece of glass at a World Cup party in Munich), Williams has been terrified of getting pregnant. Carrying a child increases the risk of blood clots, and she now has to inject herself with anticoagulants, the most dreaded part of her daily routine. This pregnancy was unexpected and accidental.
Already, Williams' pregnancy is fraught with complications, both physical and emotional. Obviously, she's handling them like the total champion she is, but that doesn't mean she won't want to make things a little less painful, when she can.
However, despite her previous fears of the impact that pregnancy would have on her body, Williams told Vogue that she doesn't feel too stressed now that it's actually happening.
"But once I found out, something happened that surprised me," she told the magazine of learning of her pregnancy right before the Australian Open. "I became really calm. I thought, You have to win, but you're allowed to lose, because you have something to look forward to."
Oh, and not only did Williams go on to win the Australian Open while pregnant, but she also said that she thinks her win had something to do with the sex of her baby. Because, as Us Weekly reported, even though Williams wants the sex to be a surprise, she's also fairly confident that she's carrying a girl. According to Vogue:
Two weeks after we found out, I played the Australian Open. I told Alexis it has to be a girl because there I was playing in 100-degree weather, and that baby never gave me any trouble. Ride or die. Women are tough that way.
Preach, Serena! And seriously, get that epidural — even if some people are against — because childbirth is no walk in the park.