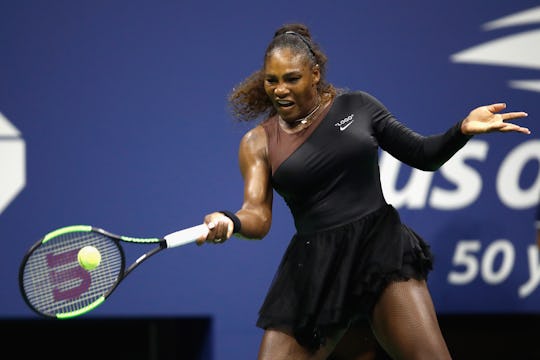 Julian Finney/Getty Images Sport/Getty Images
Serena Williams Traded In Her Banned Catsuit For A Tutu At The U.S. Open
At this point, I think most people would agree that not only is Serena Williams a phenomenal tennis player — but she's also a pretty bad*ss feminist and mother. I mean, who else could win the Australian open while pregnant? Or put healthcare providers in their place when they initially didn't check for a pulmonary embolism after the birth of her daughter — even though she's has a history of blood clots and knows her own body better better than anyone? It's Williams' incredible drive for success coupled with her determination to overcome adversity that makes her such a force on the court. Most recently, Serena Williams rocked a black tutu at the U.S. Open following her catsuit ban, and it's everything.
On Monday, the 23-time Grand Slam winner opted to wear a black tutu during the first round of the U.S. Open. During her match against Magda Linette, the tennis star wore a custom-designed tutu by Louis Vuitton designer, Virgil Abloh, and Nike — along with fishnet compression tights and NikeCourt Flare trainers, HuffPost reported. Oh, and did I mention she won this match? Yep. (Power to the tutu!) As Williams explained during a post-match press conference, she had been wanting to compete in a tutu for a while now — and it was actually "easy to play in," Elle reported. She continued:
[It's] kind of aerodynamic with the one arm free. It feels really good ... Yeah, the tutu is easy to play in because I practiced in it before. That was fun.
Judging by the Twitter commentary, the general consensus seems to be, "Yass, girl!" One Twitter user wrote, "Serena Williams competing in a black tutu and fishnet leggings is the best clapback in history. There can never be another Serena Williams!!"
Another Twitter user wrote, "Serena Williams: oh, you're not letting me play in a catsuit? Ok, I'll take the tutu out then Queeeeeeeeeeen.
Yet another person tweeted, "Just saw the photos of Serena Williams playing the US Open in a tutu and fishnets, and it's giving me life."
Another Twitter user chimed in with, "Aspire to be as bad*ss as Serena Williams winning the first round of the U.S. Open in a tutu."
Williams' epic tutu comes on the heels of the French Open announcing a ban on the black catsuit she wore during the first three rounds of this year's competition — before she had to drop out because of an injury, according to USA Today. "It will no longer be accepted," French Tennis Federation president Bernard Giudicelli told Tennis magazine, according to BBC News. "I believe we have sometimes gone too far. You have to respect the game and the place." If you're like me, you were probably thinking, "Um, what?! Respect for the game? Serena is the game!" As you can imagine, backlash from fans, feminists, and fellow tennis pros soon followed. Williams, however, remained calm and collected about the whole ordeal. "The Grand Slams have the right to do what they want to do," Williams said, according to BBC News. "If they know that some things are for health reasons then there's no way that they wouldn't be OK with it."
For the record, Williams wore the catsuit in order to help prevent blood clots. You know, that thing she nearly died from following the birth of her daughter in September? Yeah, that. See, Williams suffered from a pulmonary embolism after baby Alexis Olympia was delivered via emergency c-section — a scary series of events she described to Vogue back in January. After wearing her catsuit, Williams took to Instagram with an inspiring message to fellow moms. "Catsuit anyone? For all the moms out there who had a tough recovery from pregnancy — here you go. If I can do it, so can you. Love you all!!"
Granted, Serena Williams' unconventional fashion choice probably didn't have an underlying medical purpose this time around. (Although her fishnet compression tights surely did.) But you have to admit, kicking some tennis *ss in a black tutu was the perfect clap-back to the idea that Williams doesn't have respect for the game. And honestly, I can't wait to see if the French Tennis Federation president has an opinion about it, too.