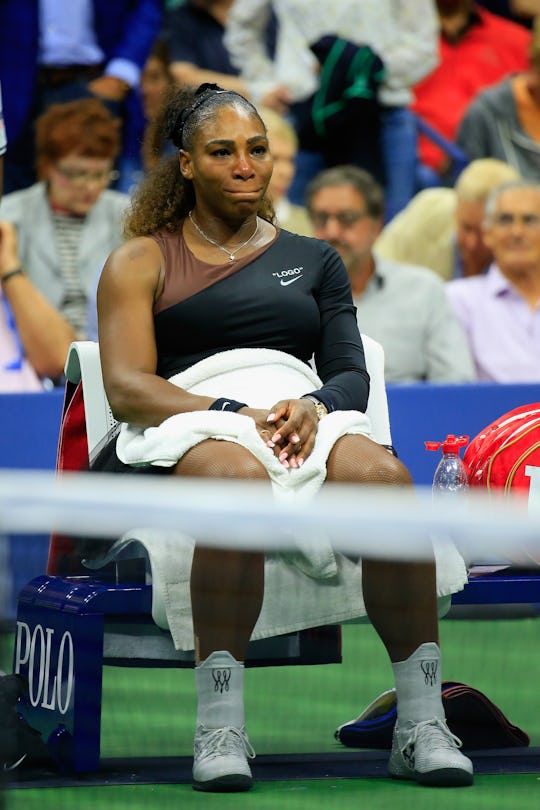 Chris Trotman/Getty Images Sport/Getty Images
Serena Williams' Daughter, Olympia, Helped Cheer Her Up After The U.S. Open
Tennis superstar Serena Williams hasn't exactly had the easiest time returning to her athletic career following the birth of her daughter, Alexis Olympia, a year ago. In addition to enduring life-threatening delivery complications and a difficult physical recovery postpartum, Williams has also faced other setbacks, including having to play unseeded despite her pre-delivery number one ranking, and, most recently, being penalized during her U.S. Open match against Naomi Osaka — a move Williams said was unfairly harsh and sexist. But in a recent podcast interview with No Filter With Mia Freedman, Serena Williams said her baby daughter comforted her following her U.S. Open loss, and it sounds like it was a seriously touching moment during what was otherwise an incredibly frustrating time.
Williams opened up about the experience during the interview, and in a preview of the upcoming episode shared on Mammamia, the athlete spoke about why she was so upset about umpire Carlos Ramos' ruling during the match. For one? Williams said that Ramos' controversial issuing of a coaching violation implied that she was cheating — an accusation she took particular offence to. She responded by telling Ramos that he needed to step back his accusation, and said, "I have a daughter and I stand for what's right for her. You owe me an apology."
Instead of apologize though, the debate only escalated, and Ramos handed Williams another violation after she smashed her racket, according to The Independent. And after an angry Williams then claimed that Ramos "stole a point from [her]," and called him "a thief," according to CNN, he issued her a full game penalty, which, in addition to her two earlier violations, ultimately added up to a $17,000 fine.
As low a moment as it no doubt was for Williams, she told No Filter's Freedman that her daughter was the one who helped her most immediately following the match. When asked about what she did first after leaving the stadium, Williams said:
Besides cry? I don't know, it was interesting. I got in the car, and Olympia was in the car. It was so weird, and she started giving me kisses, she never gives me kisses. She doesn't even know to give kisses, and she just grabbed me, and I was like this little baby is so smart.
What's more though is that, while the impact of motherhood on her tennis career must at times be majorly challenging, Williams also told Freedman that having Olympia definitely helps make otherwise-upsetting experiences so much better. She said:
It's just hard to be too down when you have a little one ... Like I have to take care of this person, and I have to do this type of stuff, it puts everything in perspective.
The peace and satisfaction she may get from being around her daughter doesn't necessarily keep her from feeling driven to fight back though — and, actually, in some ways it seems like Olympia has inspired Williams to push even more fiercely for fairness and equality. For one, there's the fact that despite her own anger over the match, Williams made a point to reassure Osaka on stage following the game that the booing crowd was not actually booing her, according to TODAY, and told the crowd, according to CNN,
Let's give everyone the credit where credit's due and let's not boo anymore. We're going to get through this and let's be positive. So congratulations, Naomi. No more booing.
And at a post-match news conference, Williams also argued that, in general, female tennis players are judged much more harshly than their male counterparts. Not only did she claim that Ramos had "never taken a game from a man" for making a comment about him being a "thief" like she did, she also noted that, recently, tennis player Alize Cornet was given a code violation from taking her shirt off on the court because she'd put it on backwards — something former tennis coach Judy Murray also called out on Twitter, noting, "Had her fresh shirt on back to front. Changed at back of court. Got a code violation ... But the men can change shirts on court."
The influence of sexism in tennis (and sports in general) is certainly not a debate that looks to be over anytime soon, but it seems clear that it's one Williams definitely feels strongly about, especially now that she has a daughter. And though Williams has experienced (and is continuing to experience) her fair share of hurdles getting back into the game she has always seemed to so effortlessly dominate, it sounds like having her baby girl with her has given her the strength to take everything in stride as best as she possibly can.