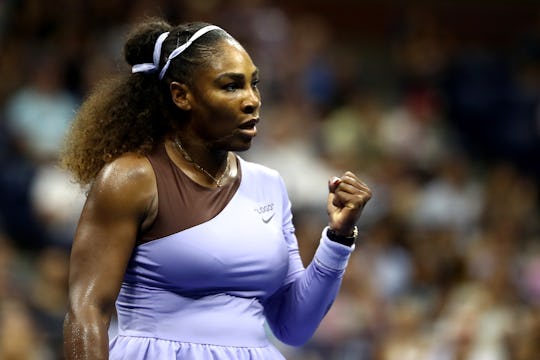 Julian Finney/Getty Images Sport/Getty Images
Serena Williams' Struggle In Finding The Perfect Work-Life Balance Is Relatable
Serena Williams now has one year of motherhood under her belt after her daughter, Alexis Olympia Ohanian, turned a year old earlier this month. But as a first time mother, Williams was figuring everything out for the first time for herself — like figuring out how to balance work and being a full time mom. And it hasn't gotten any easier. In a new interview with People, Williams said finding the perfect work-life balance has been "so hard" and other working moms should definitely be able to relate.
What doesn't Williams do? She is most commonly known as one of the best tennis players in the world, according to USA Today, spending her time playing matches and spending her days training so she can win those matches. But Williams is also a fashion designer, according to Elle — debuting her collection with HSN earlier this summer — in addition to being an advocate for women's rights and a full time mom to Olympia. With a schedule that packed, Williams is the first to understand that it's a little challenging to "do it all" — but Williams has never backed down from a challenge, on or off the court.
"It's been so hard balancing being a mom and starting my clothing line, as well as playing a professional sport!," Williams told People over the weekend. "However, it is the challenge that makes it fun!"
Williams is right about it being a challenge — especially since she told People that she has not spent one day apart from Olympia since her birth last year. Although finding the perfect balance between spending time with her family and daughter might be hard for Williams, she told People this weekend that she is currently dealing with something much harder than that — her daughter's teething phase. Williams said:
I have spent every single day with Olympia since she was born, and one of the latest challenges have been teething. I'm sure a lot of parents can relate. A milestone has been walking — I get a good workout just chasing her around the house!
Williams is right — a lot of parents can probably relate to how hard it is to have a teething baby. But what she might not know is that more women can relate to her struggle with balancing work with parenting. Although some people think achieving the perfect work-life balance is impossible, according to Quartz, women are very optimistic that they can have it all (and they should be). According to a survey done by Parents, 63 percent of women believe the perfect work-life balance is achievable. And it is. Thanks to remote jobs, parents have been able to do what they love and spend more time with their children, according to CNBC.
This isn't the first time Williams has spoken about this. In August, Williams told TIME that she struggles in finding the perfect balance every single day:
I still have to learn a balance of being there for her and being there for me. I'm working on it. I never understood women before, when they put themselves in second or third place. And it's so easy to do. It's so easy to do.
Although Williams competed in the French Open and U.S. Open this year, in addition to attending close friend Meghan Markle's royal wedding, Olympia has come along with her mom for every single one of these things. This can be seen on Olympia's own personal Instagram account (run by Williams and husband, Alexis Ohanian) which has documented all of her worldly travels this past year. And this allows for Williams to never miss a day with her daughter, which is so admirable.
But that isn't to say that she hasn't missed some milestones, too. In July, Williams tweeted that she had missed Olympia taking her first steps because she was training, according to People. But by sharing her experience, Williams said during an appearance on TODAY in August that she was able to find out that she wasn't and isn't alone. Williams said, according to People:
I didn't realize it's almost more normal to miss it than it is to make it. So I really kind of rely on everyone's help out there. It's been so amazing.
By sharing her struggles with finding the perfect work-life balance, Williams can help so many other mothers out there — and they can help her by letting her know that she isn't alone.
Even though she has had a year of experience in being a mom, Williams' recent interview with People lets others know that she is still figuring things out along the way. And that is perfectly OK.