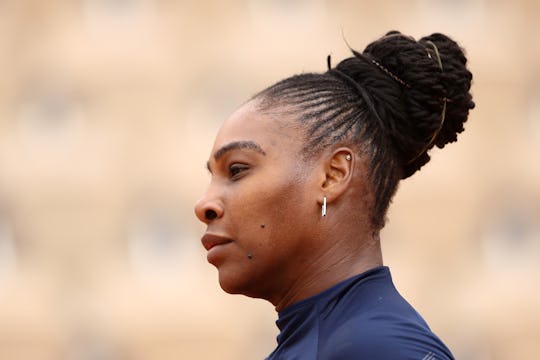 Cameron Spencer/Getty Images Sport/Getty Images
Serena Williams Says She Might Quit Tennis If She Has Another Baby
Of the endless judgments new moms tend to incur, questions and comments about their careers and work lives seem to always be at the top of the list. Will you stay home? When will you go back to the office? Are you happy with whichever you've chosen? It wouldn't be a stretch to wonder if these types of questions are thinly veiled code for the expectation that women drop everything to become parents. The reality is: whether they do or whether they don't, they are somehow still judged regardless. People are complex, and layered, and no one area of life completely defines anyone. That's why it's so important that Serena Williams says she might quit tennis if she has another baby. Sure, fans may be disappointed. But it's a crucial reminder that Williams is not only an athlete.
In a new cover story interview for In Style, Williams opened up about how she balances practices, competing, and new motherhood, saying that it's certainly been a challenge. "I'm in the locker room pumping before a match because my boobs are so big. When I pump, they go down a size or two and I go out and play," Williams told the magazine. As for whether she's considering another baby, she said: "If I weren't working, I'd already be pregnant… I don't know if I want to play if I have another baby."
In September 2017, Williams gave birth to her first child with partner Alexis Ohanian, and dealt with a series of life-threatening health complications directly thereafter, according to CNN. Vogue reported that the complications included blood clots, a hematoma, emergency surgery, and an unplanned C-section, which Williams told the magazine "devastated" her at the time.
Sometimes I get really down and feel like, man, I can't do this. No one talks about the low moments — the pressure you feel, the incredible letdown every time you hear the baby cry. I've broken down I don't know how many times. Or I'll get angry about the crying, then sad about being angry, and then guilty, like, Why do I feel so sad when I have a beautiful baby? The emotions are insane.
Now, Williams is back on her feet, literally, and back on the court competing. However, she told In Style that managing her training schedule and new motherhood is definitely a balancing act. "I sneak away to practice, usually around 8 a.m. The only rule I have at practice is to be done at 1 p.m., because as much as I love tennis, I need to be with her. I want to put her above everything else I'm doing," she said. "Since she was born, I haven't been apart from her for more than a day."
However, Williams is determined to be a mom again, telling Harper's Bazaar that she'd already be pregnant if she weren't currently competing. "I told Alexis I hope it's another girl," E! reported she told the magazine. "Olympia needs a little sister, and then we can have a boy. I've only been around girls my whole life."
Whether that means she sticks to tennis, takes a leave of absence, or retires for good, what matters is that Williams feels empowered and capable of making decisions for her ultimate happiness and wellbeing. Society tends to assume that women who have children will ultimately be doing a disservice to their careers (most recently, Cardi B addressed people saying her "career was over" when her pregnancy was announced, Glamour reported).
Williams is not only an athlete and she's not only a mom, even if those two things do make up a significant portion of her life. Whether she decides to give her daughter a sibling or stay on the court, or both, fans should support her either way.