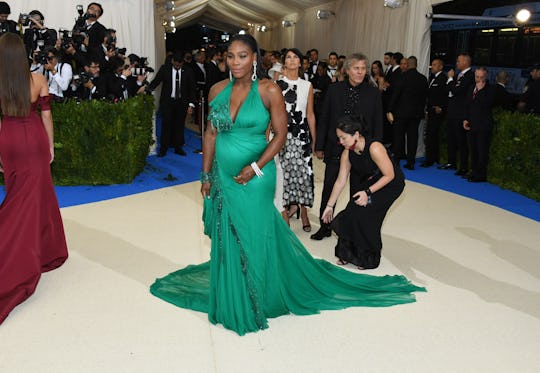 Dia Dipasupil/Getty Images Entertainment/Getty Images
Serena Just Wants Her Peppers, Dammit
She may be an insanely talented athlete who managed to win the Australian Open in January while also being newly pregnant, according to The Guardian, but that doesn't mean she's immune to the everyday struggles that come with carrying a growing human inside your body. In fact, if nothing else, Serena William's tweet about pregnancy heartburn proves that, there is at least one way in which the number one ranked tennis champ is just like the rest of us mere mortals.
After accidentally announcing her pregnancy to the world in April in a Snapchat post, Williams has been happily sharing details about her baby-to-be with fans on social media. And while most of the photos and updates have suggested that she is having the best time ever anticipating the arrival of her first child, the tennis star took to Twitter Tuesday to admit that her pregnancy has unfortunately started taking a toll on her love for spicy food. In the tweet, Williams explained that she'd passed on having spicy food for dinner in an effort to put an end to her pregnancy heartburn, and even though it seemed to do the trick, she wasn't exactly happy about it. She wrote,
No heartburn tonight. I also had no spicy food ... Is this my future for the next several months? I live for peppers on peppers on peppers.
There's not a whole lot about Serena Williams' life that I can relate to (I mean, she makes her living by being one of the world's best — and highest paid — athletes, while I can barely jog around the block without feeling like I could die). But pregnancy heartburn? Yeah, I've been there, and I totally feel for her. Having to begrudgingly give up spicy food while discovering a new appreciation for TUMS obviously isn't the end of the world, but it's also not usually the kind of thing you think you're signing up for when you're dreaming of motherhood. Seeing Williams gripe about it publicly is a funny reminder though that she's still totally down-to-earth despite everything she has accomplished in her career.
Then again, that's not entirely surprising. After all, even though Williams is known for her total domination on the tennis court, on social media she just seems like she'd be super fun and cool to hang out with. And her relationship with her fiancé, Reddit co-founder Alexis Ohanian, seems just as fun and chill — not to mention totally adorable.
According to People, Williams recently headed to Miami for to celebrate her bridal shower with 20 of her closest friends and family at the 1 Hotel in South Beach. And in a super sweet Instagram post on Mother's Day, Ohanian shared a snap from the celebration, showing Williams posing with some adorable Reddit-themed custom piñatas in honor of her big day. He wrote,
Already a great mother (Chip & Laura) and only getting greater. 🐐 I couldn't imagine going on this adventure with anyone else. Happy Mother's Day.
Having to contend with pregnancy heartburn might totally suck (especially if you're craving spicy food), but otherwise, it seems like Williams is having a pretty great time as she prepares to be a wife and a mother. And although her pregnancy means she'll be away from the tennis court for a while, her fans still at least have plenty to follow along with thanks to her sweet and funny updates on social media.