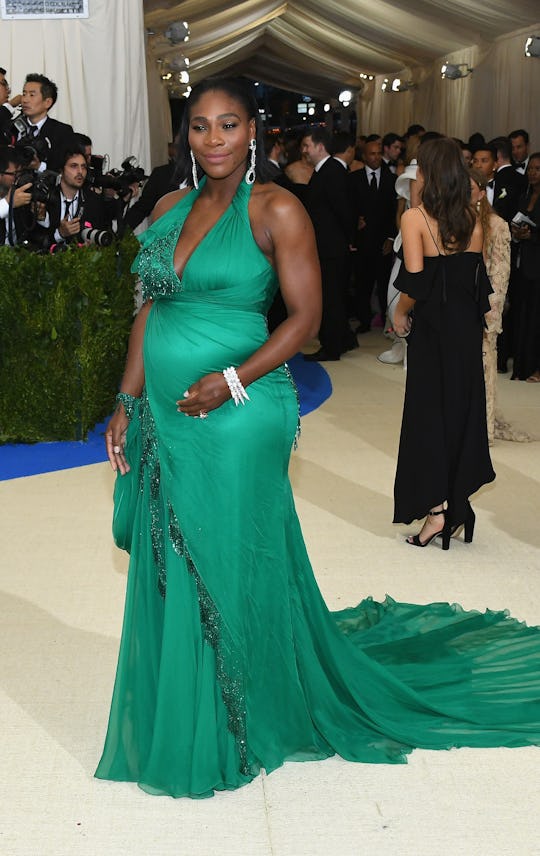 Dia Dipasupil/Getty Images Entertainment/Getty Images
Serena Williams' Vanity Fair Cover Embodies Strong Motherhood
August's issue of Vanity Fair features tennis star and mother-to-be Serena Williams looking as powerful and poised as ever. The on-profile portrait is both dominant and soft, epitomizing strong motherhood. Serena William's Vanity Fair cover shoot shows her unclothed, pregnant body in all of its glory. The images in the feature, shot by the legendary Annie Leibovitz, pay homage to all of 35-year-old Williams' success thus far while showing that she's more than ready to face the challenges ahead of her.
If you had any doubts about how tough she truly is, this past year when she won the Australian Open, Williams was pregnant. It's this level of tenacity and commitment that has resulted in her 23 grand slam singles titles — more than any other player in history.
Despite all this success, tennis legend John McEnroe had no problem diminishing her success in an NPR interview on Monday. McEnroe's uncalled-for commentary — including dubbing Williams "like, 700 in the world" compared to men, was shut down by Williams in a couple of tweets, ending: "Respect me and my privacy as I'm trying to have a baby. Good day sir." When given the chance to apologize to Williams, McEnroe refused, saying: "It's not necessary. I didn't know it would create controversy," and deflecting:
I don't want anything to go wrong with Serena because she's pregnant. I don't want to upset her or whatever it was. ... I think that, deep down, we're talking about something I can't even believe we're talking about right now.
Regardless of McEnroe's baseless commentary, Williams' cover is the ultimate clap back to the haters. Check out the cover image in all its glory:
In addition, Vanity Fair posted a similar profile shot of Williams with a long braid, and another of her draped in a textured peach tunic that hugs her shape. The photos carry a lot of the common characteristics of Leibovitz' images of athletes: A studio-portrait background, dark shadows that show muscle definition, and a muted color story.
"I don't know what to do with a baby. I have nothing. ... I've done absolutely nothing for the baby room," Williams admitted to Vanity Fair in her interview, while also sharing that the pregnancy wasn't exactly planned out. Regardless of her current preparation, Williams' fiancé, 34-year-old Alexis Ohanian, will be by her side to support her.
These images are special, and they encapsulate Williams' steadfast determination, both on and off the court, pretty perfectly. Despite any drama attempting to distract from Williams' success, the photos show that she has no intention of hiding who she is — characteristics that her baby will definitely soon admire.