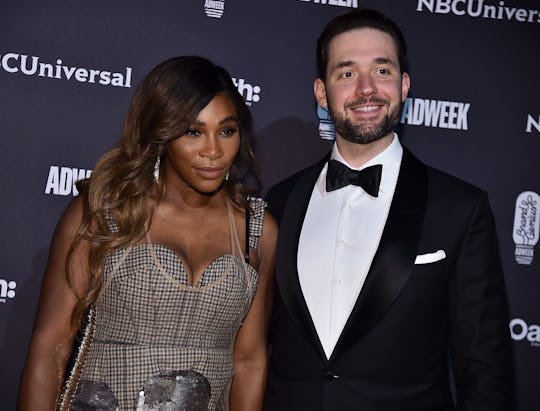 Theo Wargo/Getty Images Entertainment/Getty Images
Serena Williams' Video of Alexis Olympia Bonding With Her Dad Is *So* Adorable
Don't ask me what it is, but for some reason, fathers doting on their young children is super adorable. Maybe it's the size difference? Or the re-defining of what society considers "masculine?" Or, perhaps it's just heartwarming to see a loving father spending quality time with his child. (Because let's face it, just a few generations ago, this was largely viewed as "women's work.") Whatever it is that makes daddy-little kid time so freaking cute, multiply that by roughly 10 times when it's a celebrity father. And honestly, Serena Williams' video of Alexis Olympia bonding with her dad is the cutest thing you'll see all day.
On Monday, Dec. 3, the tennis superstar took to Twitter to share a precious moment between her husband and Reddit co-founder Alexis Ohanian and their 1-year-old daughter, Alexis Olympia, according to iHeart Radio. And fair warning: Be prepared to swoon. "This guy wow he is amazing. I wake up feeling special everyday," Williams wrote alongside the video. In the clip, Ohanian can be seen singing along to "You're Welcome" from Disney's Moana — while also helping Alexis Olympia bust some serious dance moves, as she continues to sport a serious expression. And guys, he nails every single lyric. That's how you know he's really invested. (Or that's how you know the movie has been playing on repeat for entirely too long.) Check out the cuteness overload for yourself!
Is this not the cutest thing you've seen today? Because Twitter promptly melted from the cuteness of it all. One person commented, "This is what being a Dad is; spending that quality time with your children," along with heart emojis and clapping hands emojis.
Another Twitter follower wrote, "You guys are the cutest family! Continued health and happiness to you."
Yet another person chimed in with, "Precious moments. What a beautiful baby."
Ohanian also shared the video via Twitter, writing, "Meanwhile @OlympiaOhanian is unfazed, unbothered." LOL.
For the record, this isn't the first time this particular of parents has shared a video on social media featuring the movie Moana. Back in April, Ohanian shared a clip of Alexis Olympia mesmerized by the song "How Far I'll Go" playing on a laptop computer. Fun fact: It seems like this song in particular is meaningful to the family. That's because Williams walked herself down the aisle to "How Far I'll Go" during her wedding ceremony to Ohanian, according to ET Online.
During an Instagram Live chat in June, Ohanian spoke about how fatherhood has impacted his life, according to PopSugar. "I really think about how I would do anything for my daughter (and also my wife)," he said. "I sort of feel like I leveled up in a way that is just really awesome because [being a dad] gives me this clarity of thought around every decision I make, not just professionally, but personally, and it feels really good." *Swoons*
So yeah. If you're not already, go ahead and follow Serena Williams, Alexis Ohanian, and their daughter, Alexis Olympia on all possible social media channels. Because I'm pretty sure everyone needs more of this sort of mushy, adorable positivity in their lives.
This first-time mom wants to have a home birth, but is she ready? Watch how a doula supports a military mom who's determined to have a home birth in Episode One of Romper's Doula Diaries, Season Two, below. Visit Bustle Digital Group's YouTube page for the next three episodes, launching every Monday starting November 26.