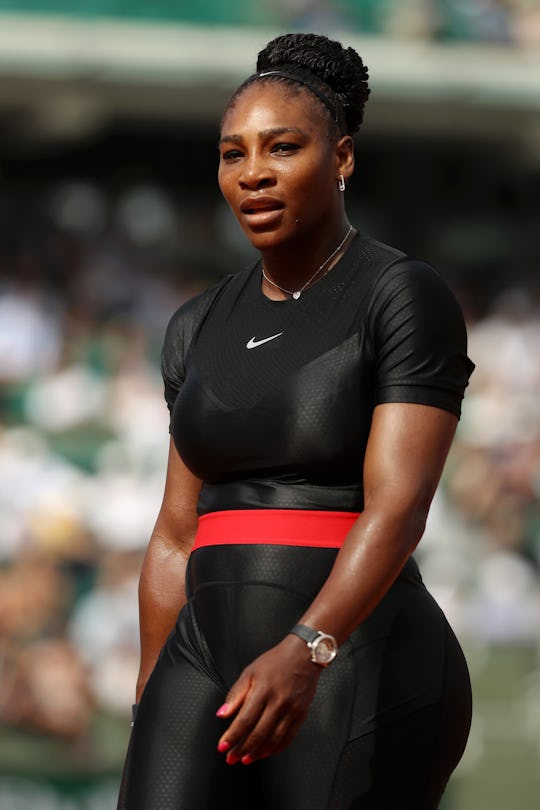 Matthew Stockman/Getty Images Sport/Getty Images
Serena Williams Wants A "Little Sister" For Baby Olympia, & Wouldn't That Be The Dream Team?
Serena Williams and her sister, Venus Williams, are a force to be reckoned with on the tennis court. But they're also forces off the court, where 36-year-old Williams is a mother to her daughter, Alexis Olympia Ohanian, with her husband, Alexis Ohanian. Because Williams and her sister are so close, it shouldn't be a surprise to anyone that Williams revealed she wants a "little sister" for baby Olympia, because successful women obviously run in the family.
A lot has changed since Williams first learned that she was pregnant in early 2017. Williams revealed during an episode of her HBO documentary mini-series, Being Serena, according to People, that the first thought she had once she learned she was pregnant was about her career. "Oh my god, how am I going to play [tennis]?," Williams said, according to People. But after welcoming her daughter in September, her thoughts about playing tennis have altered slightly.
In a new interview with Harper's Bazaar U.K., Williams revealed that she is more than ready to have more kids with her husband, if it wasn't for her career. "If I wasn't playing tennis, I'd be pregnant right now — sorry, I'm one of those women," Williams revealed, according to E! News. "I've been injured so many times, and played on it, my body is used to adjusting."
Williams has nothing to apologize for; you can see why Williams and Ohanian might want more kids — their Instagram photos with their daughter are so cute and show just how happy they are as parents.
Williams already has an idea of how she wants to expand her family. She told Harper's Bazaar U.K., according to E! News:
I told Alexis, I hope it's another girl. Olympia needs a little sister, and then we can have a boy. I've only been around girls my whole life.
In addition to her sister, Venus, Williams also has three other sisters, according to Biography. With that in mind, it's really not surprising that she would want to raise daughters.
Although Williams revealed to Harper's Bazaar U.K. that if she wasn't playing tennis, she would be raising more babies, it is clear that her daughter has been on her mind even when she is on the tennis court. For example, Williams wore a catsuit on the tennis court on Tuesday during the French Open in honor of all the moms out there "who had a tough recovery from pregnancy," according to Sports Illustrated.
And after playing in the French Open on Tuesday, Williams told ESPN that she had other priorities to attend to — like her daughter. "I want to get home and see Olympia, because I have been here all day," Williams told ESPN. "Usually we hang out all the time. If I'm not practicing, we're hanging out...I'm a super hands-on mom. Maybe too much."
This isn't the first time Williams has revealed that she is ready to have more kids. In an interview with Entertainment Tonight this past March, Williams confirmed that she is definitely ready to have another child. "I definitely want two, God willing," Williams said at the time. "But right now, I want tennis as well. So, I'm going to wait and see what happens."
Since Williams is in the height of her career, according to USA Today, it would only make sense for her to stay where she is and not rush into having another child just yet. But, given everything she's revealed recently, it definitely seems like that, when she is ready, she has a pretty good idea about how exactly she wants her family to grow.