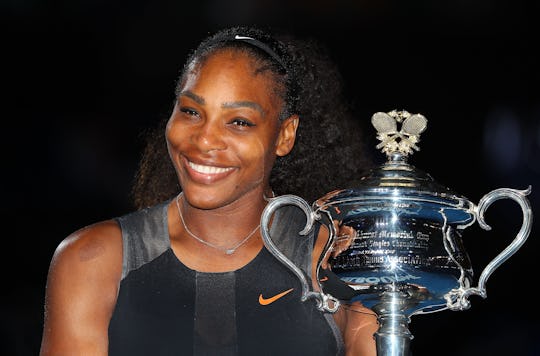 Scott Barbour/Getty Images Sport/Getty Images
Serena Williams Won The Australian Open While Pregnant
Some pregnant women consider getting out of bed and choking down a slice of dry toast to be a productive day. Others are a little more ambitious, like Serena Williams, whose Australian Open win while pregnant shows that the stigma against exercise during pregnancy is completely unfounded. To be clear, pregnancy fatigue is real — the energy expended in the first trimester is often compared to mountain climbing — but everyone's body is different. If a woman and her doctor feel that she should spend her pregnancy relaxing, then that's what she should do. But if a woman is an elite athlete, and she feels comfortable continuing her career while pregnant, there's no reason not to.
Williams isn't the first athlete to play while pregnant. Lisa Brown-Miller helped the U.S. Women's Hockey team take home the gold in 1998, the first year her sport was included in the Olympics. She was in her first trimester and over 30 years old at the time. And in 2006, German athlete Diana Sartor competed in the Olympics, racing in a luge-like event that required her to run and throw herself, stomach-down, onto her sled. More recently, WNBA forward Dearica Hamby kept her position with the San Antonio Stars until the final two weeks of the 2016 season, when she was four months along.
Williams is by far the most high-profile athlete to compete while pregnant, though, and her case is particularly notable because she competed in Australia, a country whose history on the matter is fraught with controversy. Netball Australia was forced to reverse its ban on pregnant players after it was sued for discrimination in 2003, and Cricket Australia has recently come under fire for requiring female players to declare that they're not pregnant when signing their contracts. The Australian Rugby League allows pregnant players, but requires them to seek ongoing advice from a medical professional.
But the Centers for Disease Control advise healthy pregnant women to get at least 150 minutes of moderate-intensity exercise per week, and states that women who are used to vigorous-intensity exercise can continue their normal activity while pregnant. The American Congress of Obstetricians and Gynecologists policy goes even further: "If you are an experienced runner, jogger, or racquet-sports player, you may be able to keep doing these activities during pregnancy." And even if Williams had fallen or gotten hit in the abdomen with a stray ball, she was very early on in her pregnancy, and at that point, her uterus would have been fully protected by her pelvis. A good rule of thumb: unless you're an OB-GYN speaking with a patient, don't tell a pregnant woman what she can and can't do.