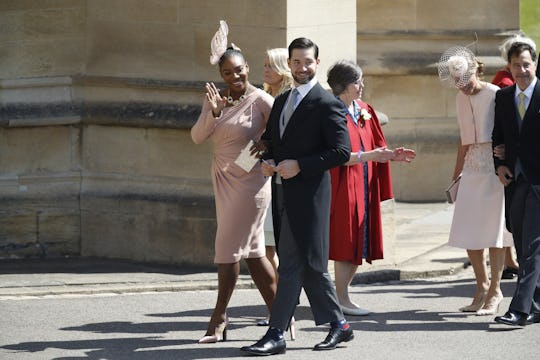 WPA Pool/Getty Images Entertainment/Getty Images
Serena Williams Took A Fashion "Risk" At The Royal Wedding Reception, & I'm Obsessed
Serena Williams knows a thing or two about being on her feet. The absolutely incredible tennis player and mom to a young daughter, Olympia, is always on her feet, doing as much as one person can do in one day. When this is the case, comfort is key and she, of all people, knows this to be true. This could be exactly why Williams wore sneakers to the royal wedding reception, proving that she might be one of the smartest guests who attended the biggest wedding of the year.
Williams practically lives in sneakers — after all, it's the proper and approved footwear on the tennis court where she constantly proves how incredible she is as an athlete. So, it shouldn't come as that much of a surprise that Williams loves wearing sneakers off the court, too and would wear them to one of the most important weddings of the year. Williams and her husband, Alexis Ohanian, started the day off with a bang by making a stunning appearance at Prince Harry and Meghan Markle's wedding in St. George's Chapel at Windsor Castle, by wearing a gorgeous blush pink dress with a matching hat and yes, high heels to go along with it.
But Williams was lucky enough to get to go to the second wedding reception later in the evening and her appearance there didn't disappoint, either. Williams wore a gorgeous Valentino gown to the party, according to E! News, and refused to wear heels with the dress. The completed look was absolutely perfect — and you can't even tell that she was wearing sneakers. "I tend to be comfy for long nights," Williams explained in the photo's caption. Talk about a boss move.
But this isn't the first time that Williams has worn sneakers underneath her gown — in the Instagram caption, she revealed that she often wears sneakers underneath her evening gowns — likely because the length keeps them hidden. This decision is smart. Attending the evening royal wedding reception likely meant that Williams would be dancing all night and when it comes to dancing, comfort is key.
It's as if Markle and Prince Harry had some foresight into this footwear choice. After guests left St. George's Chapel, according to Us Weekly, they were given slippers for comfort to wear on their way to the lunch reception after the wedding (which all 600 guests were invited to, according to People). Actresses Troian Bellisario and Abigail Spencer gladly partook in wearing the slippers, according to Us Weekly.
But not everyone had the honor or privilege of attending the evening reception held at Frogmore House — according to Us Weekly, only 200 of the 600 guests were invited to continue partying with the couple. Williams and Ohanian were two of these 200, and based on the photos of them headed to the reception, they could not look any more excited to continue to celebrate with Prince Harry and Markle.
From the sound of it, the guests had a lot of fun at the final reception of the evening. The reception reportedly had a DJ playing some great tunes, like Whitney Houston's "I Wanna Dance With Somebody," (which the couple reportedly chose for their first dance, according to E! News), and TV host James Corden reportedly served as the host of the reception and entertained guests throughout the evening, according to The Cut.
Needless to say, it was likely that guests needed to be wearing comfortable shoes to keep up with the incredibly fun events that took place. Consider Williams for the award of being one of the smartest guests to attend the royal wedding, based on her footwear choice alone.