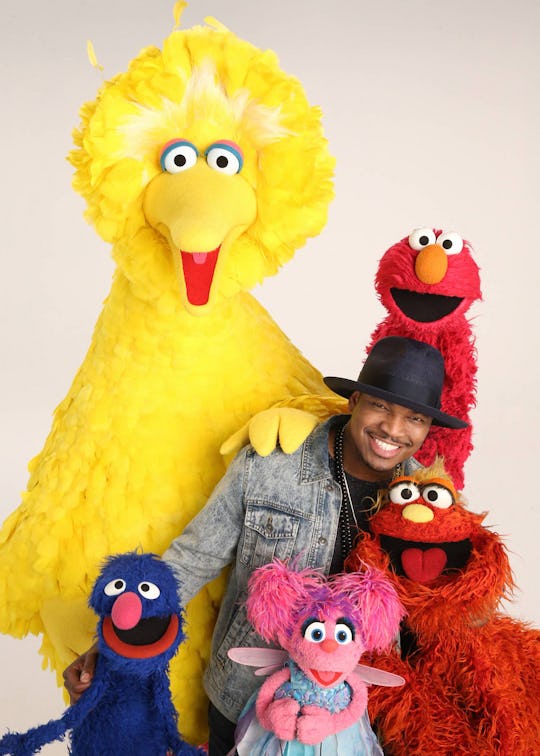 Jesse Grant/HBO
Sesame Street & Ne-Yo Teach Kids Body Positivity In A Fun Way
Remember soulfully crooning the lyrics to Ne-Yo's "So Sick" circa 2006? He was really bummin' in that one, and he was seriously "so sick of love songs." A decade later, the R&B artist is back with a much snappier tune — a complete 180 from the era of being "so done with wishing you were still here" — for HBO's revamp of the beloved children's educational program Sesame Street. With the upbeat "You've Got A Body," Sesame Street and Ne-Yo are teaching kids body positivity in a fun way, complete with an adorable music video.
Big changes have been going down since Ne-Yo's apparent "So Sick" doldrums. (To be fair, though, 2006 was also the year of "Sexy Love," so thank you for bringing that that back into my life today, Sesame Street.) Sesame Street is now an HBO creation after previously airing on PBS for an impressive 45 seasons, and Oscar the Grouch, who famously lives in a trash can, is also into recycling. But the show is still focused on instilling children with strong values related to topics like friendship, compromise, and, through "You've Got A Body," the importance of physical fitness and, by extension, body positivity. The full episode debuts May 14 at 9 a.m.
Until then, any time is "time to move" with this energetic video featuring a denim-clad Ne-Yo. Along with the Sesame Street gang, he encourages kids to hop off the couch and celebrate their bodies:
You've got a body so/Move it shake it, stomp it, and make it move/You've got a body so/Sway it, swing it, wave it, fling it, and move
According to a 2015 study by the child advocacy group Common Sense Media, found that one in four kids exhibit dieting behavior by the time they are 7 years old, and many who are not much older believe they should be thinner than they are. At the same time, an estimated 74 percent of kids ages 5 to 10 do not get enough exercise, according to a 2011 survey the YMCA conducted, with their parents opting to spend that time with their children in front of the TV instead.
But Ne-Yo's Sesame Street episode won't leave any time for mindless staring at the screen, if the "You've Got A Body" clip is any indication. There are lots of ways to promote body positivity in kids, and showing them how to really enjoy an active lifestyle and feel strong and healthy getting all those body parts together to "shake 'em and stomp 'em and clap 'em and tap 'em," without focusing on their shapes or sizes, is a great start.
"You've Got A Body" shifts the emphasis away from being thin or having the unattainable "perfect body," concepts kids internalize from a very young age. Instead, the song and video show that kids with all body types can get off the couch and use their bodies to dance and jump around, which is way more important than looking a certain way. And once they tire themselves out and collapse for naps, let's revive "Sexy Love."