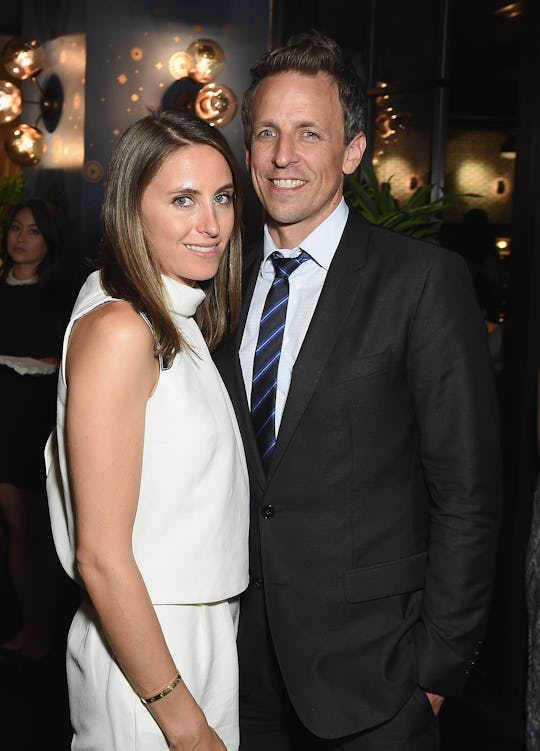 Seth Meyers And Alexi Ashe Expecting First Child, Who Is Sure To Be Hilarious
It's been quite a year for Seth Meyers. Not only did did the former Weekend Update anchor leave his Saturday Night Live post back in 2014, but he also started his run on The Late Show shortly thereafter. But now, Meyers has another announcement — and it has nothing to do with television. Instead, Seth Meyers is expecting his first child with wife Alexi Ashe.
The confirmation of Ashe's pregnancy comes just two years after Meyers and Ashe's star-studded wedding, and seven years after the duo met at Chris Kattan's nuptials. And Ashe, a human rights lawyer and Assistant District Attorney under the King's Country District Attorney, will only help to contribute to the sense of humor of her future child with comedian Meyers. Because, as Meyers has told reporters about his wife, "My wife is sillier than I am so that makes me laugh a great deal."
And that's hardly the only nice thing Meyers has said about his wife — the late night host also told YourTango about their relationship, "We just have to find time for one another. But you know, my wife works at the Brooklyn D.A.'s office. She's dealing in a far darker world than I am. And she manages to come home and still be bright-eyed and positive. So I have to do the same."
Well, there's plenty to be bright-eyed and positive about in the couple's future — especially when you consider the type of baby gifts one would receive from the duo's bevy of famous friends. Swag from Amy Poehler, Jake Gyllenhaal, and more? Lucky kid.
Image: Dimitrios Kambouris/Getty