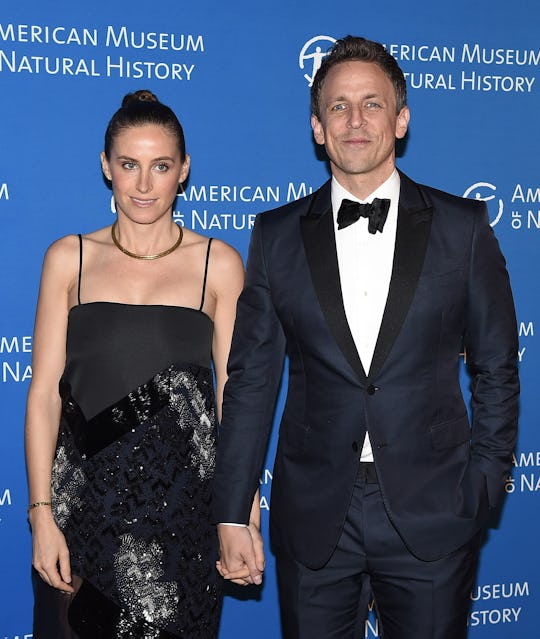 Theo Wargo/Getty Images Entertainment/Getty Images
Seth Meyers & Alexi Ashe Meyers Just Had Their First Baby Boy
Seth Meyers doesn't usually talk much about his wife, Alexi Ashe. Perhaps he prefers to keep the laughs front and center instead of his personal life. But that might be all about to change, now that Seth Meyers and wife welcomed a baby boy into the family on Sunday. New babies have a way of turning even the most private papas into gut-spilling, photo-sharing, over sharers. The Late Night audience will just have to wait and see how Meyers will handle the news, and new fatherhood, when his show returns on Tuesday.
The late-night host and his human rights lawyer wife (how awesome is that?) were married on Martha's Vineyard, Massachusetts, in September 2013, with a star-studded guest list that reads more like the list for a Saturday Night Live wrap party (guests included Amy Poehler, Kristen Wiig and Jason Sudeikis). The Meyers shared the news they were expecting last September, reportedly at the New York Natural History Museum Gala.
Earlier this month, Meyers opened up to People Magazine about his excitement over the the baby's arrival and becoming a dad. Meyers and his wife apparently didn't find out the sex of the baby before he was born, so the anticipation for the birth was huge.
"I'm most looking forward to seeing who it looks like, that's the first thing out of the age," Meyers said.
He also confessed he was having some anxiety at the prospect of having to live up to his own father, who, he said, looking back, knew a whole lot more about everything than Seth feels like he has to offer to his own kiddo.
"...My dad knew something about everything," Meyers said. "I know little things, but my dad knows how to make eggs and my dad knows how to ride a bicycle. I'm gonna have to outsource everything."
Glad to see Meyers' million-dollar sense of humor is still solidly in tact, because he's going to need it with a new baby in the house. But with friends like Poehler and fellow former SNL alum, Tina Fey, Meyers is sure to have plenty of solid advice at the ready, should he and his wife need to call in their bold-named backup.
No word yet on the baby's name. Meyers joked that, as a Northwestern grad, he was mad Kanye West and Kim Kardashian stole his baby name. "Until he did North West probably would have been just the full first name," Meyers told People.
It's been so fun to watch Meyers practically grow up on television screens and move from being Poehler's sidekick on the SNL "Weekend Update" to absolutely slaying the biggest names in news on his own show, Late Night.
Congrats to Meyers, Ashe, and new baby Meyers.