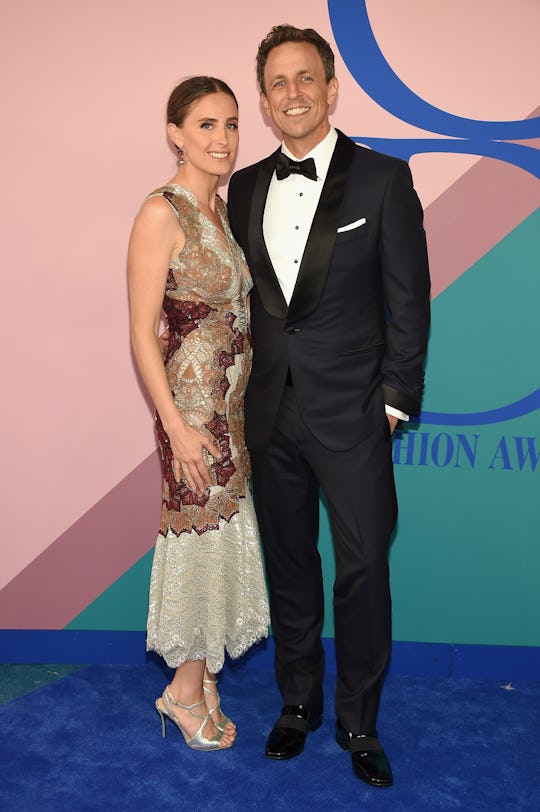 Dimitrios Kambouris/Getty Images Entertainment/Getty Images
Seth Meyers' Wife Didn't Make It To The Hospital To Give Birth, & The Story Is Hilarious
My husband isn't too keen on the idea of my going through early labor at home, mainly out of fear that our baby will come before we can make it to the hospital. For some reason, I doubt that today's big entertainment news headline will make him feel any differently. Alexi Ashe, Seth Meyers' wife gave birth to their son in their apartment lobby and Meyer's story of her delivery is wild. Sometimes, labor progresses really quickly.
Meyers first announced his wife's pregnancy on Thursday, November 23, during the special Thanksgiving episode of his show, Late Night With Seth Meyers. He did so with the help of his guests of the evening: his parents, Larry and Hilary Meyers, and his brother Josh. He and Ashe already have one child together, their two-year-old son Ashe Olsen Meyers. He became a big brother on April 8.
On his April 9 edition of Late Night, Meyers shared all of the details of the birth of his youngest child, Axel Strahl Meyers, according to E! News. After what started out as a "totally normal Sunday," with brunch and a walk in the park, Meyers' mother-in-law shocked him by shouting, "We have to go to the hospital now!" He went on to explain that his sister-in-law came to watch Ashe while his wife endured what he described as, "one long contraction," Us Weekly reported.
Meyers quickly called an Uber, but Alexi told him that she wouldn't make it to the hospital. "My wife just says, 'I can't get in the car. I'm going to have the baby right now. The baby is coming.'" He tried to calm her down along with the help of their doula, but it was too late for relaxing; the baby was out. Meyers joked that his wife "looked like someone who was hiding a baby in a pair of sweatpants. It was like someone was trying to sneak a baby on a plane!" They checked her and, sure enough, "The head of the baby was out!" he said.
From there, Meyers explained that he jumped into action, making the necessary arrangements to get Alexi to the hospital:
I called 911, and over the course of a minute conversation, I said, 'We're about to have a baby! We're having a baby! We had a baby. I went from someone calling in about an emergency to just sharing good news with a stranger. Like, 'Yeah, it's a boy!'
One of the most touching parts of his story was the love and support that he received from his neighbors, according to People. They supplied plenty of warm towels for Axel until emergency services arrived. "It was just this incredible outpouring of kindness from people we barely knew," he said.
Along with regaling his audience with the details, Meyers also praised his wife for remaining "incredibly calm" during the whole ordeal. He also thanked the New York Fire Department and the New York Police Department for their roles in welcoming little Axel to the world. Meyers wasn't so thankful for his drive though, "F*ck the Uber driver who charged me!" he joked.
Meyers shared a few other details about his new child, including the source of his middle name: Olsen. The name honors his wife's grandparents, who met in a hospital in Austria following their liberation from a concentration camp, according to People. He also shared a photo from the chaotic birth with his viewers, showing his wife holding their son while an EMT held an oxygen mask to her mouth. Meanwhile, Meyers looks up at the camera, all smiles.
Parenthood can be incredibly unpredictable, childbirth included. Hopefully, Meyers and Alexi are able to enjoy their new addition without anymore big surprises. Congrats to the happy family!