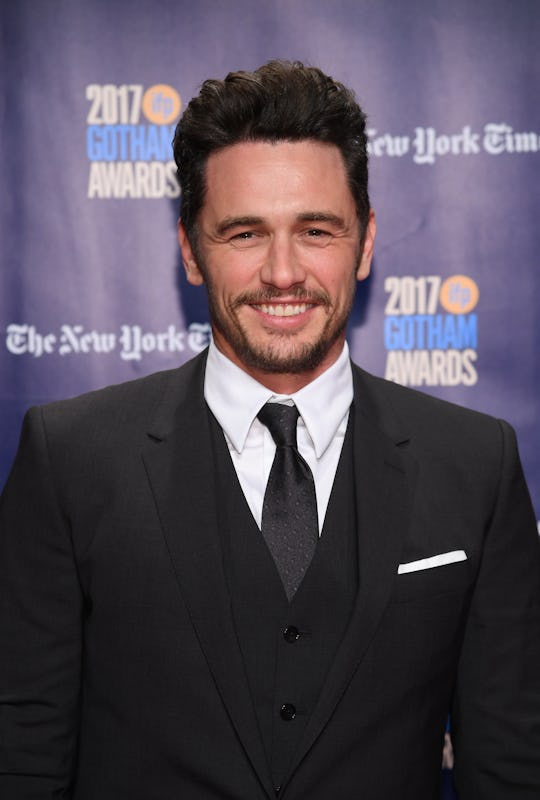 Dimitrios Kambouris/Getty Images Entertainment/Getty Images
You Won't Believe Who Crashed James Franco's 'SNL' Monologue
James Franco hosted Saturday Night Live for the fourth time on Saturday, so you'd think he'd had enough practice performing his monologue by now. Nevertheless, he got a little help from a couple of his most famous costars. Seth Rogen and Jonah Hill crashed James Franco's SNL monologue and the internet loved it. I don't know if these three always do their best work when they're together, but there is no denying that they're incredibly fun when they're all in the same place.
Franco, who is currently promoting his new movie The Disaster Artist, joined the SNL stage for the fourth time, opening the show by saying when you host the show that many times the cast doesn't even write a monologue for you. So he decided to wing it by taking questions from the audience. He was in the middle of answering one woman's (very well thought out) question when who should appear behind her but Seth Rogen in a very orange sweater and a very trim beard. Rogen wasn't there to see his old buddy host, though. He was just there because he won the show's lottery tickets and was particularly excited to see musical guest SZA perform.
Rogen was also apparently a little peeved that Franco was hosting the show for his fourth time when Rogen himself had only hosted the show twice. That's when the poor woman sitting next to Rogen was led away to make room for another one of Franco's pals, an extremely slim Jonah Hill, who appeared only too happy to join Rogen in heckling their old friend. "Has SZA gone on, yet?" he asked. When he wondered who was hosting the show, Rogen responded, "It's Franco." Hill asked, "Davey Franco?" — referring to Franco's brother and fellow actor Dave. Cue the chuckles all over the audience.
But Franco didn't just let his friends laugh at his expense without getting a few of his own shots in. He noted that he'd been nominated for Oscar awards on the projects he worked on alone, while the movies he worked on with Rogen only ever got nominated for the Stoner Awards. "Stony Awards," Rogen corrected, adding that the awards were just as prestigious as the Oscars and when you win they give you a bag of weed as a prize. Having never seen the Stony Awards myself I can't really attest to the truth of this statement but it sounds fairly accurate.
That's about the moment that Franco looked into the audience and said, "Is that Steve Martin?" The camera panned across the seats and landed on the actor himself, eager to join Rogen and Hill in some good-natured heckling of their fellow comedian. While Rogen and Hill have been known to act alongside Franco for years, Martin felt a little out of left field, which is probably why this bit worked so well. "I want you to know I used to stand on that very spot, right where you're standing," the comedic legend shouted at the host. "And I gotta say, I resent it, just a little bit."
Martin, of course, is responsible for some of the most hilarious and enduring sketches in the show's history, including the perennial "Two Wild and Crazy Guys" that I still occasionally quote when I'm feeling a little silly. If Martin had gotten down from the audience and jumped on stage to give Franco a helping hand, I don't think I'd be that mad about it, to be honest.
Check out Romper's new video series, Romper's Doula Diaries:
Watch full episodes of Romper's Doula Diaries on Facebook Watch.