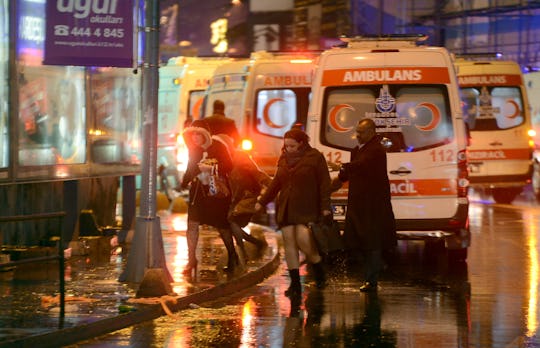 IHLAS NEWS AGENCY/AFP/Getty Images
Several Wounded In Istanbul Nightclub Attack
Soon after one of Turkey's busiest and most populated cities rang in the New Year, it was reported that several had been wounded in an Istanbul nightclub attack after at least two armed men opened fire inside. According to the BBC, local media reported that some of the armed men involved in the attack were reportedly dressed in Santa costumes and others were dressed as street vendors when they entered the popular bar in the Besiktas area of the city during New Year's Eve celebrations.
Update: According to CNN Turk, Istanbul Governor Vasip Sahin reported that at least 35 people have been killed, 40 wounded in the attack at an Istanbul night club on New Year's Eve.
While local law enforcement reportedly could not immediately confirm whether any causalities resulted from the attack, Turkey's NTV initially reported that "many" people were injured and were transferred to nearby hospitals for treatment with large amounts of paramedics and police reporting to the scene.
BNO News reported that the attack began just before 2 a.m. local time on Sunday, New Year's Day, after heavy gunfire could be heard at the popular Reina nightclub in Istanbul, which is a bar and a restaurant, and as many as 800 people could have been inside at the time of the attack. As of 2:40 a.m. local time, at least one of the shooters was reportedly still believed to be active. ‌
Soon after the attack, photos and videos shared on social media and local media showed the aftermath of the attack with "multiple bodies outside the club" and "multiple victims have been rushed to area hospitals," according to BNO News.
Along with the much of the world, The Independent reported that Istanbul had reportedly been on high alert for any terror attacks after terrorist extremist groups, like ISIS, caused numerous deadly attacks over the past year. On New Year's Eve, nearly 17,000 police officers were reportedly on duty in Istanbul.
In Turkey, at least 180 people were killed in 2016 in several attacks carried out by ISIS and Kurdish rebels in Ankara, Turkey's capital, and in Istanbul.
This year alone, Turkey has been victim to some of the deadliest terrorist attacks. In March, at least 37 people died in a terrorist attack at a bombing at a bus stop in Ankara, which was later claimed by Kurdish militant group TAK. And again in June, a suicide bombing at Istanbul airport killed 45 people, which Turkish officials later believed was planned by ISIS.
According to ABC News, Governor Sahin said the incident was a "terror attack" but did not say who may have carried it out and no terrorist group has claimed responsibility yet.