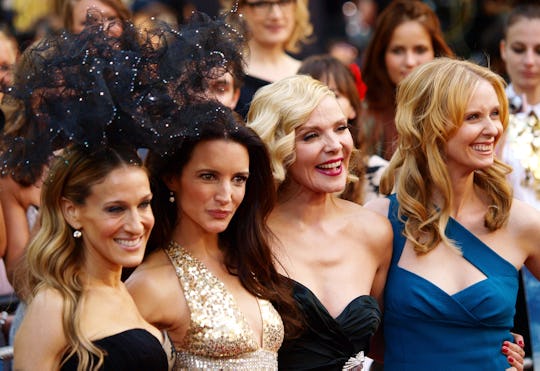 MAX NASH/AFP/Getty Images
'Sex And The City' May Return To TV, & Here's Why That Is Extremely Important
Carrie Bradshaw (Sarah Jessica Parker) and her possé took society by storm from 1998-2004 in Sex and the City — and then again in 2008's Sex and the City, and once more in 2010's Sex and the City 2. The Vogue writer's girl gang always knew how to grab life by the balls — literally. And her squad never once shied away from the topic of sex; instead they thrived off bringing orgasms to the center stage of the show. So, it's no surprise why fans everywhere wouldn't be pumped at the fact that Sex and the City might make a return to TV, someday. In a recent interview with the Press Association, Sarah Jessica Parker said she was open to playing Carrie with her girls one last time.
In an interview with the Press Association, Parker said of the potential revival, "I don't think any of us have said no. I don't know whether it's a series or the movie." While the question remains, it certainly seems like the team is ready to reassemble. Carrie's best friend Stanford (played by Willie Garson) recently told Digital Spy, "I would make a hundred [movies]." I'm going to hold him to that.
On the notorious show, the BFFs talked about sex positions, toys, size, and lust without batting an eyelash, and helped make that dialogue acceptable and available for women everywhere with cable. In doing so, the sex positive show brought sex talk into the real-life conversations of its viewers.
The kind of comfort it instilled within women to discuss their sexuality is more necessary now than ever, since dating apps are being downloaded onto phones faster than your mom's emergency phone number. It would be great to have a confident woman like Samantha take charge on instructing and empowering female millennials on how to own their sexuality, beyond the episodes already available on your parents' HBOGo. We live in a world where "situationships", hookups, polyamory, and straight and gay relationships coexist, let's allow the ladies to tackle those topics with a millennial POV, shall we?
Not only would bringing the show back lower the stigma of talking about sex for future generations, but a Sex and the City revamped couldn't come at a better time since Hollywood is currently experiencing a giant wave of nostalgia with shows like Stranger Things, and constant reboots of films and television as evidenced by Fuller House and The Blair Witch Project. It seems as though society really has entered a time machine, complete with throwback shows, '90s chokers, and sweaters thrown around our waists, but hey, I'm here for it.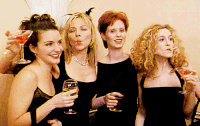 And if these ladies do decide to sign back on, whether it be for a new season or movie, society would definitely be entertained by, and benefit from watching, the four confront ghosting, and all the other throes that come with smart phones and social media that get thrown into an erotic mix.