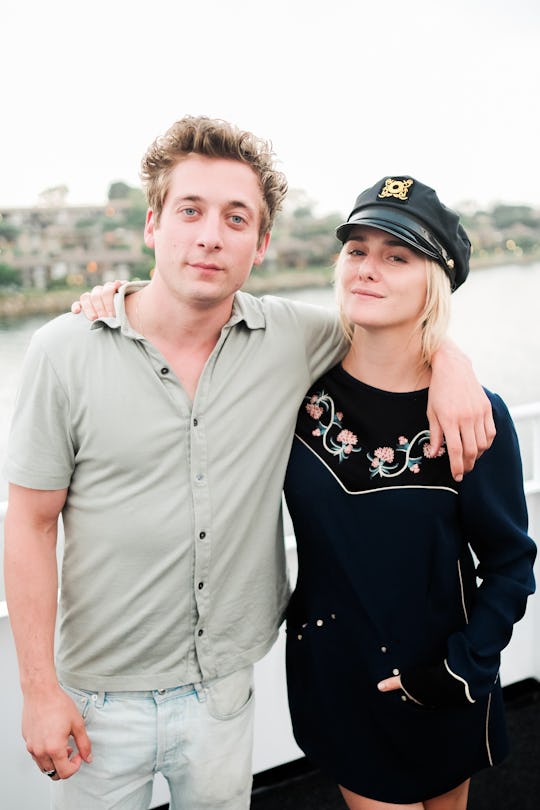 Matt Winkelmeyer/Getty Images Entertainment/Getty Images
'Shameless' Star Jeremy Allen White & Addison Timlin Are Now Parents To A Baby Girl
Please allow the royal baby news to settle in on your brain's back burner for a moment, because another fabulous famous couple deserves the spotlight right now. Actors Jeremy Allen White and Addison Timlin just welcomed a baby girl, and they've already shared a few details about their bundle of joy. Specifically, they announced her arrival to the world by sharing photos of her along with her adorably unique name.
Jeremy Allen White, 27, is best known for playing Phillip "Lip" Gallagher on Shameless, and Addison Timlin, 27, has starred in movies including Little Sister and the slasher film The Town That Dreaded Sundown. On Sunday night, the couple announced their baby's birth on Instagram. "Ezer Billie White 10.20.2018 Welcome to the world baby girl, it just got so much brighter," Timlin captioned two photos taken in the hospital. In the first, White is happily beaming down at his daughter, who is showing off her delightful arm rolls. In the next, Timlin has her eyes closed, with an emotional yet calm look on her face, as she cuddles her baby girl.
Ezer is certainly not a name one hears every day, but it does have origins as a name going back thousands of years.
The name Ezer dates all the way back to the bible, and there are two different names in the text that translate to Ezer in English, Abarim Publications notes. The first Ezer (sometimes translated to Ezar) is one of the sons of the Horite chief Seir (Genesis 36:21, 36:30), and it can translate to either treasury, treasure, or covenant, according to Abarim Publications. The second version of the name Ezer in the bible is ascribed to five different men (mentioned in 1 Chronicles and Nehemiah), and it means to help or support. And according to BabyCenter, Ezer translates to helper in Hebrew. The website also lists Ezer as typically a boy's name (which adds up, since it was attributed to so many men in the bible), making White and Timlin's choice to use the sweet moniker for their baby girl even more unique.
The couple first announced they were expecting a baby back in June, on Timlin's birthday, Us Weekly reported at the time. "We made a baby and my heart is bursting at the seams," Timlin captured a selfie of herself showing off her bump while cuddling with White. "Today is my birthday but my wish already came true. This is 27 and the best is yet to come ❤️."
White made his excitement clear in a post of his own later that day, as Cosmopolitan reported. "Happy birthday sweetheart. You're gonna be the best momma, I love you," he wrote on Instagram, next to a picture of a wall full of polaroid photos, including what looks like several sonograms.
Since then, the couple has shared several pregnancy updates with fans. Timlin's most recent update came earlier this month, when she Instagrammed a photo with actress Dakota Johnson. "Happy birthday to my baby's godmother 💕," Timlin captioned a shot of the two of them at a bowling alley. In the picture, Timlin is cradling her bump, while Johnson is cradling a bowling ball in front of her stomach. Looks like she's all ready to be a supportive yet goofy godmother to Ezer!
Congratulations to the new family of three.