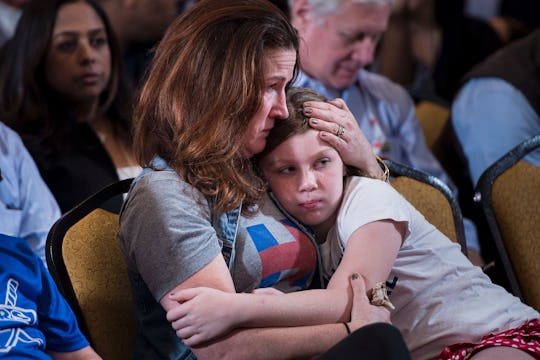 BRENDAN SMIALOWSKI/AFP/Getty Images
'She Should Run' Encourages Women To Run For Office, Which Is More Important Than Ever
"History was not made at the presidential level, the number of women in Congress will remain static, and as of January, the number of women governors will drop by one," Rutgers' Eagleton Institute of Politics observed in a post Election Day press release. That voting yielded fewer women in positions of power than ever is a tough pill to swallow, but some have been fighting this trend and they need your help as well as your recommendations. The D.C.-based, nonpartisan organization She Should Run encourages women to run for office, hoping that personal outreach and referrals, education, and research can help close the wide gender gap that exists in politics today.
"When women run for office they win at the same rates as men," She Should Run's website exclaims in its mission statement. "Yet," it continues "women are not encouraged and recruited at the same rate as men." She Should Run's "Ask a Woman to Run for Office" form provides the opportunity to nominate members to join the community of over 100,000 women who might be contemplating (or not yet contemplating) running for office. Bolstered by various social media presences, the group is, to put it frankly: "Dedicated to dramatically increasing the number of women in public leadership by eliminating barriers to success." Eliminating barriers? Now that's a goal we can all support.
Though women experienced few wins on Election Day, the aforementioned Rutgers study did acknowledge that the number of women of color in the Senate has grown. California, Illinois, and Nevada welcomed new, female leaders who will bring their own valued experiences along with their political prowess. Whereas this diversity is without a doubt needed, four of 100 seats is still a slim sum — one that She Should Run is hoping to close.
Speaking to the plight of women in office, Erin Loos Cutraro, co-founder and current CEO of She Should Run, notes: "Women don't come to the campaign trail with the same boys' club network built in that men do, [and] we often hear that women feel they have to work harder for those connections." This is where a supportive network comes into play: Having a go-to group of encouraging, similarly motivated individuals can downplay the intimidation that some "boys' club network[s]" may bring against a woman's run for office.
"We will be a smarter society when women have equal access to decision-making," Cutraro says. Advocating for diversity, she believes: "I don't think it's possible to solve the increasingly complicated issues we face as a nation unless we have all of the talent this country has to offer at the decision-making table." So, despite recent setbacks, women can continue to support and enable one other through initiatives like She Should Run. And, hey: Know of anyone you'd like to see in office? Ask her to run — a little nudge might be all she needs.