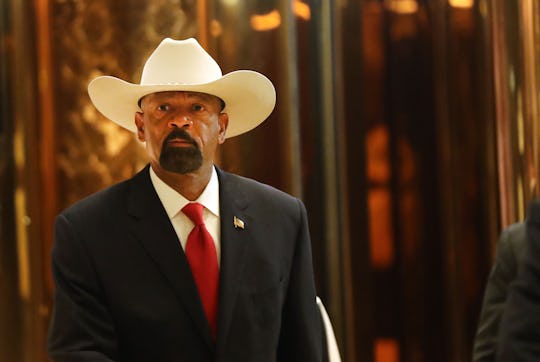 Spencer Platt/Getty Images News/Getty Images
Sheriff David Clarke Withdraws DHS Acceptance
Of all the odd things to happen in the United States since Donald Trump was elected president, this might just top them all. According to new reports, Sheriff David Clarke has withdrawn from a Homeland Security position, which he says Trump nominated him for. Craig Peterson, Clarke's advisor, released the following statement to The Washington Post:
Late Friday, Milwaukee County Sheriff David Clarke Jr. formally notified Secretary of Homeland Security John F. Kelly that he had rescinded his acceptance of the agency's offer to join DHS as an assistant secretary. Sheriff Clarke is 100 percent committed to the success of President Trump and believes his skills could be better utilized to promote the president's agenda in a more aggressive role.
Clarke has fallen into the national spotlight multiple times before, most recently, of course, because he accepted the nomination to the Department of Homeland Security from Trump. However, Clarke is a bit of a political enigma. Hailing from Milwaukee, Clarke is a registered Democrat, yet aligned himself completely with Trump during his campaign, proving his loyalty and working his way to a federal position. Now, however, Clarke has decided not to work at DHS, another interesting move from someone who is proving himself to be both confusing, and troubling.
According to The Hill, "Clarke told conservative radio host Vicki McKenna during an interview last month that he had accepted the role of deputy secretary of Homeland Security." Since then, however, he has been the object of much scrutiny, including the medals he wears, his master's thesis, and, sadly, issues of misconduct in the jails he oversees.
As The Washington Post reports, an inmate at Clarke's Milwaukee County Jail died last year, just eight days into Terrill Thomas's solitary confinement. It was during those first seven days that Thomas was allegedly left without water, and the mentally ill man died not long after.
And in the first few days following Clarke's acceptance of the DHS position, not much happened. There was some shock, some disbelief, but it wasn't until news broke that Clarke seemed to have plagiarized his master's thesis that things started to get intense. CNN reported that Clarke appeared to have copied portions of the paper. Clarke allegedly "plagiarized sections of his 2013 master's thesis on US security, a CNN KFile review has found," with several direct, unsourced quotes coming from the American Civil Liberties Union.
However, it's impossible to know why, exactly, Clarke has now decided not to take the national stage by Trump's side, but his spokesperson states he isn't quitting his support for the president. "The sheriff is reviewing options inside and outside of government," his spokesperson, Peterson, said, although it's unclear what those options might be.