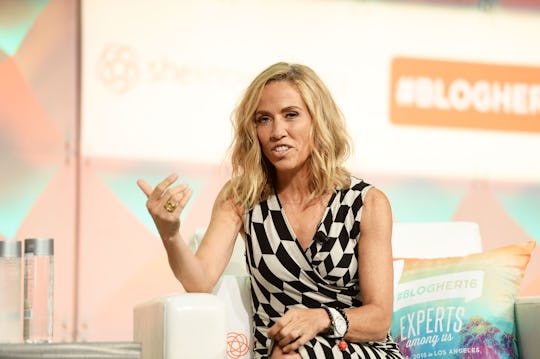 Matt Winkelmeyer/Getty Images Entertainment/Getty Images
Here's Why Sheryl Crow Limits Her Kids' Screen Time
She's won nine Grammys and has another album on the way, but, mostly, she's dedicated to being there for every moments of her sons' childhoods. So, it's really no surprise that Sheryl Crow limits her kids' screen time to 30 minutes per day, as she recently told People magazine. Six-year-old and Levi and 9-year-old Wyatt probably aren't bored, though: Crow said she recorded the entirety of Be Myself, out April 21, during their school hours so that she could be home every night for dinner. And no one would argue that playing endless games of Candy Crush is a better way to spend time than hanging out with family (except maybe kids themselves, but still).
The rules in Crow's Nashville home are simple: The boys don't have iPhones, and there are no televisions in their bedrooms. Each day, they get a half an hour to either use an iPad or watch TV — and that's it. It's a stricter setup than what many children experience, as the American Academy of Pediatrics recommends that parents of children 6 and older use their own discretion when setting limits on children's media use, but deemed one hour of screen time each day appropriate for 2- to 5-year-olds.
But Crow's reasoning for being especially vigilant about her kids' digital media consumption makes total sense. Here's how she explained it to People:
When Wyatt was really little and we would be flying, we had educational games on the iPad, and he learned his letters and numbers and all that — but what really happens? He's learning things, but also his brain is becoming like a little sponge for those bright colors and those quick edits, and what it winds up doing is it creates this addiction. It's crazy.
It's easier for a parent to say, "Ugh, let them sit on the iPad, I've got things I need to do." And I feel that way sometimes: "I just need an hour to myself, here's your iPad." But I know that it's like giving a hit off a crack pipe, and then saying, "How did you wind up being addicted to crack?!"
And she's right: Too much screen time can have detrimental effects on kids as they grow up, including dulled empathy, difficulty reading social cues and concentrating, disrupted sleep schedules, and even an increased risk of developing a chronic illness — and, yes, digital addiction. According to the Mayo Clinic, overexposure to screens for entertainment purposes has also been linked to obesity and violence.
Still, technology isn't all bad. Dr. Yolanda Reid Chassiakos, lead author of the "Children and Adolescents and Digital Media Technical Report," told CNN that it can actually be interactive, facilitate communication, give kids a platform and tools with which to create, and aid their education as they use it to access class notes and homework. When parents allow kids screen time for these and other purposes, Chassiakos said, they should be sure to talk to them about issues like "cyberbullying, engaging in sexting, and being accessible to advertisements and online predators."
At 6 and 9, Crow's sons may have a couple years to go before some of these problems may affect their daily lives. Still, a slower introduction to digital media can only benefit them in the long run.