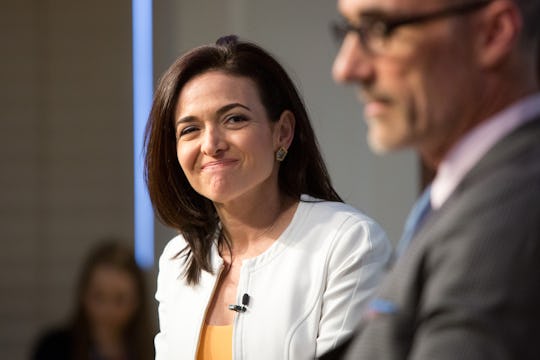 Allison Shelley/Getty Images News/Getty Images
Sheryl Sandberg's Mother's Day Message Is So Important
When Sheryl Sandberg speaks, people listen. The COO of Facebook and Lean In author has taught millions of people to do just that — lean in with confidence and without fear. As an advocate for others, Sandberg consistently speaks up about the issues that matter, especially for those who are not as fortunate. This Mother's Day, for example, Sandberg said that the minimum wage must be raised in a Facebook post, and her reasoning is as sound as it is important.
In the post, penned on her Facebook page, Sandberg touched on the importance of raising the minimum wage, which isn't just about rewarding people for hard work. Instead, she argued, it's about allowing mothers to support their families. Sandberg started off the post with a hard truth:
To start, it's long past time to raise the federal minimum wage. Two-thirds of minimum wage workers are women. Raising the wage would reduce pay inequality and help millions of families living in or near poverty.
She's right: While the benefits of raising the federal minimum wage have been long debated, the facts out there are already supportive of those looking for a change. With the current federal minimum wage at a low $7.25, and over 20.6 million people in the United States relying on this income, according to the Pew Research Center, many people could benefit — especially those with kids.
Sandberg continued, discussing what working mothers in the United States need from their jobs and their government, and advocating for paid leave and affordable childcare. She explained:
We need paid leave. The United States is one of the only developed countries in the world that doesn't guarantee paid family leave — and we're the only country in the world without paid maternity leave.
And we need affordable child care. Child care for two children exceeds the median annual rent in all 50 states. How are parents supposed to work if they don't have a safe and affordable space to leave their kids?
According to the Pew Research Center, a majority of women with young children are in the work force and over 40 percent of households with children under the age of 18 have mothers who are the sole or primary source of income for their families. Because of this, it is imperative that women have a decent living wage, affordable child care while they're at work, and paid maternity leave when they give birth.
The current state of politics isn't helping those parents either. President Trump's child care plan will really only benefit those who can afford child care, giving those who really need it the most an estimated $5.55 in tax credits to offset child care expenses, according to Elle. And when it comes to paid parental leave, though Trump has talked about making it a federal requirement, according to the American Civil Liberties Union (ACLU), his proposal in it's current format has "fundamental flaws."
Sanderberg's Facebook post this Mother's Day serves as a reminder that a mother's fight is far from over in the United States, as privileged as some here may be. Her words show that we must advocate for other women, lean in, and tell our representatives what we deserve, if we want the future to be even brighter.