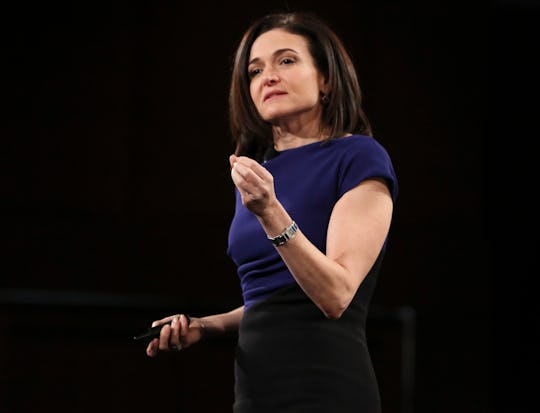 Jonathan Leibson/Getty Images Entertainment/Getty Images
Sheryl Sandberg's Message To Single Moms Is Seriously Uplifting
Mother's Day is hard to celebrate, even if you're lucky enough to have a great relationship with your own mom or have a family to shower you with mimosas and breakfast in bed. For many, the Hallmark holiday is loaded with meaning. Especially for Facebook COO and Lean In author Sheryl Sandberg, whose Facebook message to single moms is seriously uplifting.
Sandberg lost her husband, David Goldberg in an accident last year, almost to the day. And Sandberg reflected on her experiences as a new single mom over the course of the last year and amended some of her, often controversial, ideas about co-parenting in her book in the long Facebook post. She wrote:
In Lean In, I emphasized how critical a loving and supportive partner can be for women both professionally and personally—and how important Dave was to my career and to our children's development. I still believe this. Some people felt that I did not spend enough time writing about the difficulties women face when they have an unsupportive partner or no partner at all. They were right.
She wrote that after a year of single parenting, she has realized that single moms, of any social class, face struggles that many in partnerships sort of just can't get.
She added that for her, "[single parenting] is still a new and unfamiliar world. Before, I did not quite get it." She wrote,"I did not really get how hard it is to succeed at work when you are overwhelmed at home." Not only did Sandberg address her own struggles, and thank her family for all of their help over the past year, she also took a stance about drawing attention to single moms who struggle with more than just being alone while raising kids. Such as families living in poverty or same-sex parents who don't enjoy the same rights after the death of a loved one or divorce when it comes to finances or even custody.
"The odds are stacked against single mothers in this country. Yet so many give everything they have and go on to raise incredible children," she wrote. While sharing her own experience and sorrow from the past year, Sandberg turned the post outward and focused on how little support our culture often offers single mothers. Or even just families in general.
She added that America's "out of date," when it comes to thinking about families and taking care of them through policy. She wrote openly about fighting for equal pay for women as a way to help to single mothers and fighting for maternal and paternal leave at companies so that everyone has the same chance to focus on family, without threatening their careers. She wrote:
We need to build a world where families are embraced and supported and loved no matter how they fit together. We need to understand that it takes a community to raise children and that so many of our single mothers need and deserve a much more supportive community than we give them. We owe it to them and to their children to do better. We must do more as leaders, as coworkers, as neighbors, and as friends.
This comes as no to surprise to many women, parents or not. But it's especially moving coming from Sandberg, who as the COO of a major tech company, can actually take action within her own company for parents, and serve as a role model for anyone else in a position to enact change. It's also inspiring to hear someone say "I was wrong." When her book Lean In came out, Sandberg faced a lot of criticisms for ignoring the plight of any career oriented woman who might not be in the same privileged situation as the the executive.
Sandberg's lessons were hard learned with the loss of her partner and co-parent. But hopefully her Mother's Day message will make it's way to everyone — single moms or policy makers — who needs to hear it.