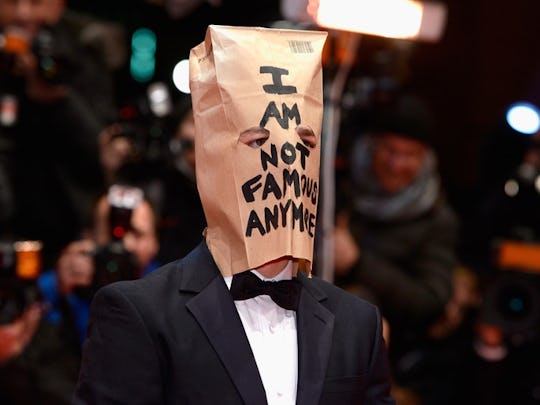 Clemens Bilan/Getty Images Entertainment/Getty Images
Shia LaBeouf is Watching All His Movies in Reverse Order Right Now, Because Art
I'm officially going on record with the fact that I do not get art. At all. Right now, at this very minute, Shia LaBeouf is watching all his movies at the Angelika Film Center in New York. And he's watching them back-to-back, in reverse order. He started at noon on Tuesday and will continue until about 7 p.m. on Thursday night. You are welcome to join him, free of charge. The… exhibit?... is put on by LeBeouf and his art collaborators Nastja Rönkkö and Luke Turner, and I don't understand it at all. But if you're in the Manhattan area, you can totally show up at 6:10 a.m. on Wednesday to watch Transformers with the star, or maybe make Thursday a true #TBT by taking in the 11:50 a.m. screening of Holes. If you're not in the area, don't despair! LaBeouf is also live streaming the event. 
This wasn't the first time that LaBeouf did a weird art thing I didn't understand, either.
February 2014
The actor began tweeting "I AM NOT FAMOUS ANYMORE" over and over (which is exactly how you get rid of unwanted attention), then showed up to a film premiere wearing a paper bag on his head with the same phrase written on it. 
Soon after the bag incident, LeBeouf began a new project, #IAMSORRY. The project entailed him sitting alone in an empty room at an art gallery, not speaking, and letting people do whatever they wanted to do him. Andrew Romano of The Daily Beast got him to remove his bag, and said it looked like he'd been crying (follow the link for photographic evidence). LeBeouf later gave an interview to Dazed Magazine in which he alleged that one visitor to #IAMSORRY whipped and raped him.
February 2015
LeBeouf grew a rat tail (the rat tail granted GQ an interview in June). I'm hoping that was for art, because it certainly wasn't for fashion.
May 2015
LeBeouf collaborated with students from London's Central Saint Martins art school to make… I'm not sure. A video project; I can confidently say that much. He stood in front of a green screen while students instructed him to make motivational speeches, pretend to sell swords, and speaks about watermelons and jellyfish. I just don't know, guys. I just don't know. You tell me.
Images: Clemens Bilan/Getty Images Entertainment/Getty Images; Giphy