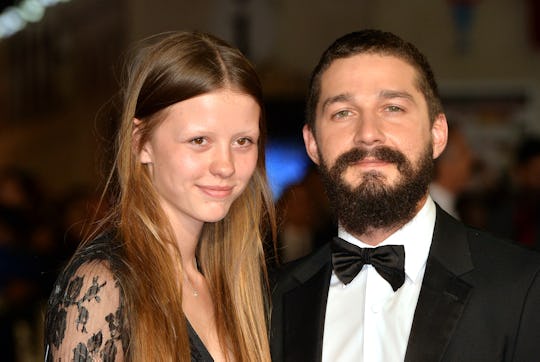 Anthony Harvey/Getty Images Entertainment/Getty Images
Shia LaBeouf Marries Mia Goth & The Internet Freaks Out Accordingly
After a seven month engagement and a reportedly rocky relationship, actor Shia LaBeouf has married Mia Goth. According to TMZ, on Monday, Oct. 10, the actor tied the knot with his longtime girlfriend in a not-so-traditional Las Vegas ceremony — and of course, the internet freaked out. The pair even live-streamed the casino-themed ceremony, which was complete with an Elvis officiant and a hula dancer.
At the end of the intimate ceremony, the 30-year-old American Honey star could seen in a tears as he hugged and kissed his new bride at the end of their first dance, who was wearing a simple long-sleeved white dress with her hair styled straight and down.
While the lovebird's wedding had some stereotypical Las Vegas characters in attendance, it doesn't appear to be that it was an impulsive, unplanned event — like so many cliche movie story lines. As Hollywood Life reported, both LaBeouf and Goth's moms witnessed the ceremony.
The newlyweds met in 2012 on the set of Nymphomaniac and were first rumored to be engaged in March 2015 when the British actress was spotted wearing a large sparkling diamond on her ring finger. A source confirmed their engagement to Us Weekly just days later that the former Disney star did indeed pop the question.
Although the pair has been together on-and-off for nearly four years, their relationship has reportedly been through some rough patches. According to Us Weekly, in July 2015 footage captured LeBeouf and Goth in a heated argument where the actor said he "would've killed her" if a group of locals in Germany hadn't driven him away from from Goth.
"I don't want to touch a woman, I don't want to hit a woman, but I'm being pushed," LaBeouf reportedly told a group of men before they drove him to the airport, according to Us Weekly.
The actor was then heard threatening his then-girlfriend. According to Us Weekly, LaBeouf told Goth, "I don't want to touch you. I don't want to be aggressive. This is the kind of s—t that makes a person abusive."
Fast forward to more than a year later and the now-married couple seem to be happier than ever. And as expected, the internet absolutely freaked out:
According to E! News, there's still no documentation of the pair officially marrying, which has led to a bit skepticism as LaBeouf's has done some pretty outlandish and odd things in the last decade that have also gotten him a lot of press.
The actor is known to be into performance art, he says what's on his mind, and he might have even taken drugs for a role in a film. So while his tears and emotion appear to be genuine, it's very possible that his livestreamed Las Vegas wedding might have also been for the sake of art.
And if the "I dos" were in fact the real deal, then the internet couldn't have asked for a better day.