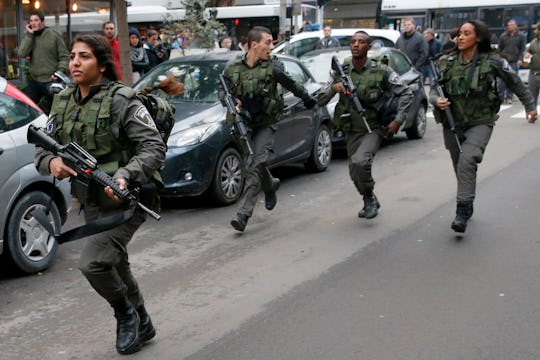 Jack Guez/Getty
Shooting Breaks Out In Tel Aviv, & This Is What Police Know So Far
The New York Times reports that a gunman opened fire in Tel Aviv Friday afternoon in an area filled with shops, restaurants and cafes. The shooting led to a chaotic scene in the busy area , and an "intense manhunt" by police. Video footage reportedly shows that the shooter opened fire at a cafe, a sushi restaurant, and the Simta pub, a popular bar in the area.
The motive behind the shooting is still unknown, as the shooter is still at large, according to BBC News. But footage of the attack captured on security cameras in the area reportedly shows the suspect taking a gun from his backpack and opening fire in different directions. At least two people have been killed in the shooting, with seven others wounded.
According to a report by the Times of Israel, security officials in Tel Aviv believe that they have identified the shooter, and allege that the 29-year-old currently-unnamed suspect was reportedly "acting out of Islamist motives". Police are said to believe that the suspect is from Arara, an Arab village in northern Israel. His father reportedly recognized him from televised security footage, and contacted police.
Police spokesman Mickey Rosenfeld said the shooter fired more than 15 rounds on a sidewalk outside the Simta, according to CNN.
"I saw people running shouting, 'Terrorist, terrorist!'" Haim Pinto, owner of a jewelry store in the area, told the outlet in an interview.
"Dizengoff Street on Friday is usually packed, and we are lucky that there was bad weather so there were not so many people."
Image: Jack Guez/Getty