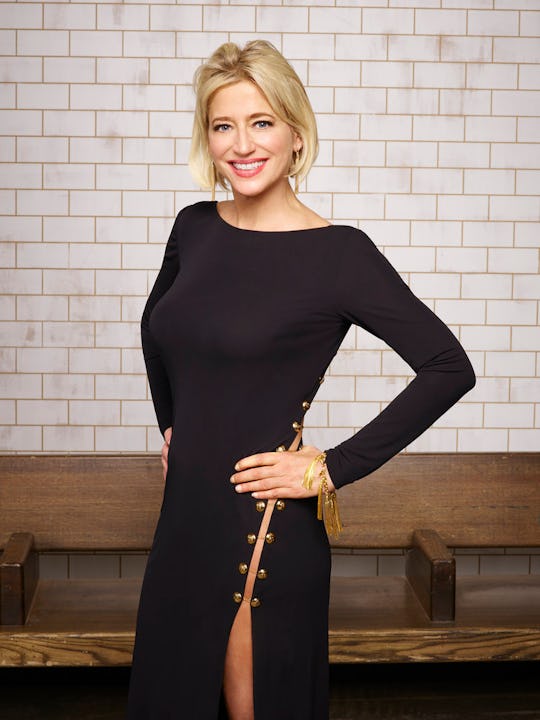 Mathieu Young/Bravo
Should Dorinda Medley & John Mahdessian Get Married On 'Real Housewives'? Time Will Tell
It's no secret that Dorinda Medley's boyfriend, John Mahdessian, otherwise known as the "Sultan of Stains" to the high-class laundry crowd in Manhattan, is not exactly popular with the other ladies. He's a little grabby, a little crass, and often just a little too loud. But Dorinda loves him, so the other Housewives have to put up with him. Because that is what good friends do. Now, the question on everybody's minds, especially since a particularly romantically charged pizza date last season, is should Dorinda and John get married on the Real Housewives of New York?
If I was a betting lady, I would say no. But that's just conjecture. Let's look at the evidence.
Going back to that pizza date, Dorinda said in her blog that she's not sure whether or not John was going to propose that day, but that a proposal made in a place where "tomatoes are being squeezed and stewed in the next room" is not a proposal she would accept. Gotta respect the lady's conviction. It certainly seemed like John was ready to put a ring on it, but as for Dorinda? Not so much. It seemed like Dorinda was a little ambivalent about the whole marriage idea. "I'm not particularly looking for a husband," she said.
The second reason I'm guessing that this couple isn't heading toward the aisle any time soon is that Dorinda's daughter, Hannah, isn't quite as in love with John as her mother. Last season, when Dorinda showed her a picture of John, Hannah looked on, unimpressed. Hannah was lucky enough to have both a father and a step-father she adored, and she might not be ready for another. Dorinda may not care what her friends think of her main squeeze, but something tells me that with their tight bond, she cares a lot about what her daughter thinks.
Dorinda and John have been together for around four years now. That's a long time to be dating someone and not have gotten married. It's would be logical to assume that since they haven't gotten married yet, they're obviously not in any hurry to say "I do." In fact, they may never get to that point.
Finally, while John has called Dorinda "the love of his life," for Dorinda that title has always belonged to beloved late second husband, Richard. Richard passed not long before Dorinda and John began dating, and Dorinda speaks of him often, and always with extreme tenderness.
On the other hand, it would be safe to say that, at least for the time being, John probably isn't going anywhere. In Wednesday's episode, we watched Dorinda defend John, as she always does, but this time with a bit more fury, particularly at Bethenny Frankel. "I've chosen to have him in my life. I'm at a part in my life where I can choose what I want to have, and I choose it. Period. Done," she says. When Ramona Singer jumps in with her two-cents, repeating some nasty gossip being spread by some of her other friends, Dorinda shuts her down just as fiercely. "As your friend for 20 years, you talk to me about it separately!" It's obvious that Dorinda is willing to defend this relationship to the death.
So will they eventually tie the knot? With the evidence above provided, I believe we can reasonably guess that Dorinda and John are not on their way to getting married, but that doesn't mean they're breaking up.