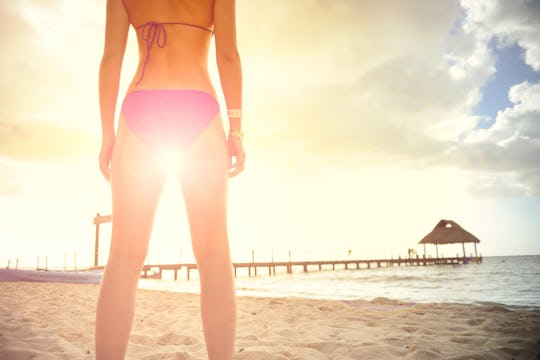 Should I Get A Bikini Wax? 7 Things To Know Before Taking Care Of Hair Down There
Oh, pubic hair. At some point, many women find themselves in a love/hate relationship with their grooming routine. Some see hair as a natural part of their body, and opt for full bush status. Others prefer to be hair-free because it makes them feel cleaner and more comfortable. If you're part of the latter group, then chances are you've wondered whether or not you should shave away your hairs or go for a full bikini wax. But before you book your appointment, there are some things you should know about getting a bikini wax.
For starters, you should know there are many ways to remove pubic hair that don't involve smearing a hut substance on your body. You can shave it off, have it lasered away, or even tweeze your bikini line. But according to Elle, most women rely on waxing to remove pubic hair, as it lasts a little longer and saves them some time. Still, you may be nervous to book your first appointment, whether it's because you're concerned about the cost, scared of the potential pain, or just don't know enough about it. Here are some important things to know about getting a bikini wax that will prepare you for your first visit, and the many that may follow.