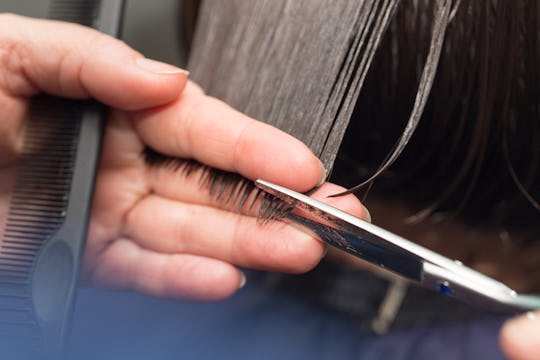 Should I Get A Haircut? 6 Questions to Ask Yourself To Avoid Any Post-Trim Regret
Making the decision to cut your hair is a big deal. Not only are your locks one of the first things people notice about you, but they also say a lot about your personality. A hairdo can honor your culture, signify your queerness, or provide a cathartic release after a huge life transition. A phenomenal cut can make you feel awesome about yourself, and can take the monotony out of getting ready in the morning. This is why there are some important questions to ask before cutting your hair. 
We've all heard horror stories. A curly-haired woman tries to get a bob and ends up with a giant pouf. The color you request doesn't match the one atop your head (or, any shade on the ROYGBIV spectrum for that matter). For those who may be nervous about making changes to their style, asking a few question can keep you from making a decision you'll later regret (although, worst case scenario: it's hair, it'll grow back.) Or, if you're like me and have no problem making drastic and spontaneous hair changes, these questions will reassure you that this is an awesome idea.
Here are some things to consider before stepping into the salon to take the plunge.