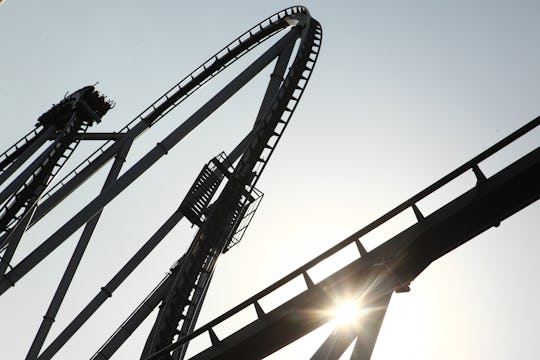 Michele Tantussi/Getty Images Entertainment/Getty Images
Should Kids Ride Roller Coasters? Fourth Park Accident In 5 Days Has Parents Worried
Another child has been injured on a roller coaster, making this the fourth theme park accident in the last five days, according to CNN. The latest incident occurred at the Idlewild & Soak Zone in Ligonier, Pennsylvania about 50 miles outside of Pittsburgh. A young boy, reported to NBC News to be 3 years old, fell out of a wooden roller coaster called the Rollo Coaster. He was airlifted to a local hospital with unknown injuries, according to a park spokesman. This string of theme park accidents have parents seriously concerned about theme park safety and asking: Should kids even be riding roller coasters in the first place?
The full extent of the child's injuries sustained at Idlewild & Soak Zone are unknown. Jeff Croushore, a spokesman for the theme park, announced the victim was "talking and alert with his family" at an afternoon news conference. This incident, while undoubtedly terrifying for everyone involved, could still have a happy ending. The previous theme park accidents, however, have had tragic consequences. A 10-year-old boy from Kansas died from a neck injury sustained while riding Verrückt, the world's tallest water slide, at Schlitterbahn water park. This death came just one day after a launch cable disconnected from the popular Top Thrill Dragster at Cedar Point amusement park in Ohio injuring two.
The events of the past five days have many parents wondering if they should allow their children to ride roller coasters. It's natural, of course, to question things that may put a child's safety at risk, especially when there's been a stream of horrifying incidents in such a short span of time. But roller coasters are not as dangerous as they may seem.
The International Association of Amusement Parks and Attractions reported that the chance of being seriously injured on a ride at an amusement park in the United States is one in 24 million. According to the report, only 61 of the 1,415 injuries sustained on rides in 2011 required overnight treatment at a hospital.
Roller coaster related deaths are even more rare. The National Safety Council also conducted a report on theme park safety and concluded that the number of injuries have significantly decreased in the last decade. The statistical probability of sustaining a fatal injury on an amusement park ride is 1 in 750 million. While it's definitely still nerve wracking to let your child ride a roller coaster, there is a slim chance that they will be injured.
All theme parks go to great lengths to ensure the safety of their guests, however, at the end of the day it's up to each parents' individual discretion to decide whether or not their children should ride roller coasters. Make sure you pay close attention to the safety rules, including height and weight requirements, they're there to keep you and your children safe.