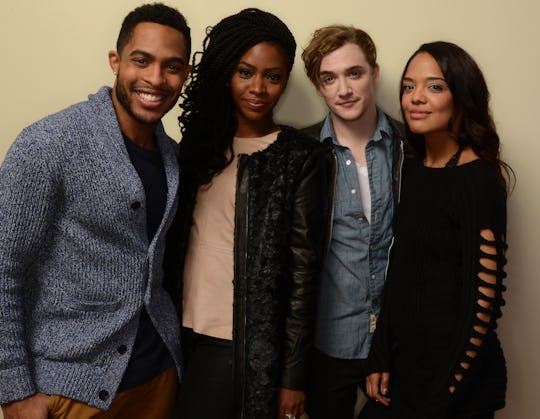 Larry Busacca/Getty Images Entertainment/Getty Images
Should Kids Watch The 'Dear White People' Series? It Will Deal With Tough Racial Issues
An upcoming Netflix original project will explore one of the most pervasive and polarizing of issues, one that permeates every aspect of society but that many people feel uncomfortable discussing: race. Dear White People, an anticipated 10-part series based on the 2014 film of the same name, chronicles the lives of four African-American Ivy League students as they navigate the racism, hypocrisy, and micro-aggressions they experience in college. In a real-life political climate where people of different backgrounds sometimes struggle to understand one another, both the film and the in-the-works series should be required viewing for teenagers and adults. But this is heavy, complicated stuff — so should kids watch the Dear White People series?
The film earned major accolades when it premiered at the Sundance Film Festival two years ago, and, as The New York Times pointed out, "You want to see this movie, and you will want to talk about it afterward, even if the conversation feels a little awkward. If it doesn't, you're doing it wrong." Kids need to understand prejudice and develop racial sensitivity as much as adults do, so having these conversations in some form is certainly important for them. To begin to determine whether a Dear White People viewing for young kids is the way to jumpstart that, check out the movie trailer:
The man who wrote and directed the film, Justin Simien, will do the same for the first episode of the series, so it's safe to assume that the two will retain a similar flavor. The film is rated R and dives into race, sex, privilege, and power — topics I certainly wasn't actively confronting in elementary school, but are nevertheless societal undercurrents that shape everyone, including children.
The main protagonist, Samantha White, a student at the fictional Winchester University, hosts a campus radio she uses to call out white people for racial indiscretions. "Dear white people," she says at one point, "the minimum number of black friends needed to not seem racist has just been raised to two. Sorry, but your weed dealer, Tyrone, doesn't count." It's a reminder that the idea of "post-racial America" is simply a myth, and as kids grow up, they'll inevitably become aware of the central role race plays in the United States. They'll learn about why the #BlackLivesMatter is a thing, and why #AllLivesMatter is just racist.
The Dear White People series (scheduled to air in 2017) will likely do a lot to educate white parents on race issues, and supply them with valuable information to broach with their kids, as appropriate. But the film also depicts college students doing what college students do, and its intended demographic is clearly an older and more mature than a kid in grade school. Whether parents decide to let their kids watch the series alongside them or choose to enjoy it after the younger members of the family have gone to bed, the themes presented in both the movie and the series are important for kids to discuss and understand. Approach with caution.