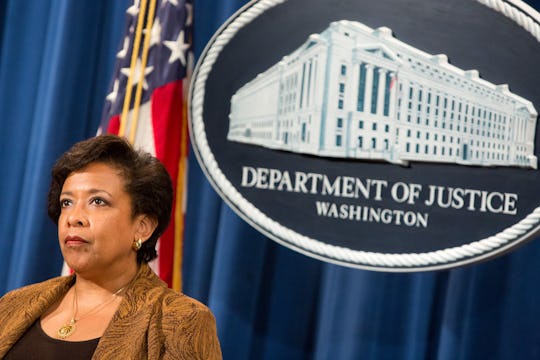 Allison Shelley/Getty Images News/Getty Images
Should Loretta Lynch Accept The FBI's Recommendation On Clinton's Emails? She Plans To
The director of the Federal Bureau of Investigations, James Comey, announced on Tuesday the FBI's recommendation to the Department of Justice regarding Democratic frontrunner Hillary Clinton's use of private email servers during her time as secretary of state. What happens now? Attorney General Loretta Lynch either accepts or rejects the FBI's recommendation to bring a case against Clinton. So, should Lynch accept the FBI's recommendation, or should Clinton face charges for her improper server use?
Four days before the FBI's recommendation was announced, Lynch said she would accept the FBI and career prosecutors' recommendation regarding Clinton's private server use. Her announcement came just days after drawing national attention for having an impromptu meeting with Clinton's husband, former president Bill Clinton, in Phoenix early last week. While Lynch didn't actually recuse herself (meaning she'd bow out of the case due to a conflict of interest), she did make it clear she'd be following the recommendation of the FBI and career prosecutors in this instance.
"A recusal would mean that I wouldn't even be briefed on what the findings were, or what the actions going forward would be," Lynch said at the Aspen Ideas Festival, according to Bloomberg. "While I don't have a role in those findings and coming up with those findings or making those recommendations as to how to go forward, I'll be briefed on it and I will be accepting their recommendations."
Considering the immediate backlash Lynch received after meeting with Bill Clinton, it's likely in her best interest to accept the FBI's recommendation, since the bureau has been working on the investigation for over a year now. Rejecting the FBI's recommendation would certainly be an interesting choice for Lynch — and it would likely end all speculation of a conflict of interest, at least in regards to being too close to the Clintons — but it's not a decision that would make sense either way.
As to whether a case truly should or shouldn't be brought against Clinton, opinions vary. The FBI determined that there was no "intentional misconduct" on Clinton's part, leading to its recommendation against charges. Since the FBI found no evidence of hacking, either, there's no proof that there were negative outcomes to Clinton's personal server use. It's a muddled case, and both Republicans and Democrats are likely to agree and disagree with different aspects of the case.
With all eyes on Lynch (and Clinton), it's likely that the attorney general will accept the FBI's recommendation, then let the email scandal blow over. (Something tells me, however, Trump will keep fanning the flames long after Lynch has announced her decision.)