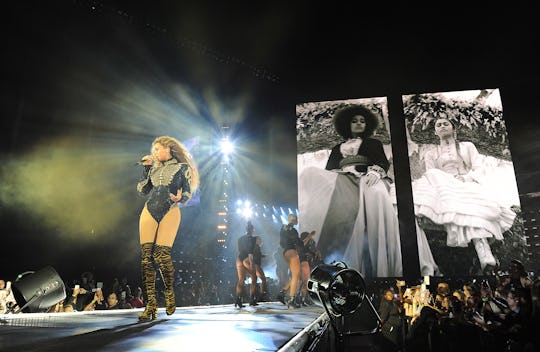 Handout/Getty Images Entertainment/Getty Images
Should You Let Your Kids Go To Beyonce's Formation Concerts? The Messages Are Complex
Beyoncé continued her sashay toward total and utter world dominance with last week's kickoff in Miami for her Formation World Tour, and as expected, the reviews for the show say Beyoncé does not disappoint. Formation is guaranteed to be one of the hottest tickets of the summer, which can leave parents in a tough spot. Should you let your kids go to Beyoncé's Formation concerts? It depends on how comfortable you are with your kids being exposed to edgy content.
On one hand, Formation should be entertaining for just about any age. When Beyoncé sings, dances, and tears up that stage, you don't have to be of a certain age to know you're watching something really special. But, as any Beyoncé fan knows, she's not afraid to let loose with some colorful language. For instance, there's the whole Red Lobster line in her hit "Formation" that's probably not something you want to have to explain to your kids. There's also plenty of middle fingers scattered throughout Beyoncé's new album, Lemonade, and it would be super embarrassing to have to explain to the teacher, "Yes, well I'm sorry about that, we've spent a lot of time watching Lemonade and I'm afraid she thinks the middle finger is just another way of saying 'no thank you.' I'll have a talk with her about that."
Yikes.
Beyoncé is unquestionably making music and videos for grown folks, not kids. Themes of the album include infidelity, sexuality, and social justice, and some of them would probably go over your kids' heads, which is probably why taking them to see a show on the Formation World Tour might not be all that big of a deal at all. I mean Beyoncé and Jay Z bring Blue Ivy to plenty of her mama's shows. Here's a picture of Jay and Blue dancing backstage on the Formation tour's Tampa, Florida, stop and it's sweet enough to make your heart burst out of your chest.
That whole scene seems pretty family friendly to me.
And depending on your overall parenting style and approach, there's an argument to be made that the Formation World Tour is so groundbreaking that maybe letting your kids experience it for themselves is well worth exposing them to a little bit of raunchy language. I think of my own daughter, who, at 5 years old, has no clue about marital betrayal and the political significance of Beyoncé calling on women to claim their own power. But I see value in exposing her to those images and music, because they are defining our entire pop culture conversation and will for years to come.
My kindergartner might not understand exactly what Beyoncé is saying on her new tour, but Queen Bey's power as an artist is her ability to make you feel her. You don't need to have written a dissertation on gender politics to know that Beyoncé is telling women to be strong, bad*ss women. And, to me, that's exactly the kind of message I want my daughter to see and hear and experience. Plus, Beyoncé sings and dances in those gorgeous costumes. For girls like my daughter, Beyoncé is a kind of Disney Princess 2.0. And I couldn't be more thrilled to have her as a role model for my girl.
Every other parent has to make his or her own judgment of Formation, but, for folks like me, who are interested in exposing their kids to art and culture, there's nothing more relevant or significant at the moment than Beyonce's new tour, and I wouldn't be the least bit afraid to let my kid have that experience for herself. I imagine it's the kind of thing that stays with you for a lifetime. Besides, if it's good enough for Blue Ivy...