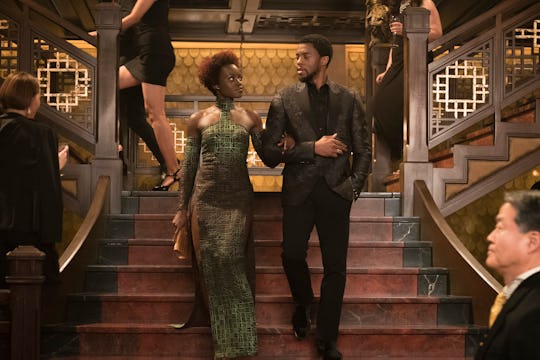 Marvel Studios
'Black Panther' Fans Need To Know This Before Seeing The Film In 3D
For fans looking to get the most out of their viewing experience, snatching up tickets for a 3D IMAX experience is a must. Many movies are enhanced by the special circumstances of 3D, which can add a little more grandeur and texture to an already-thrilling action flick. But should you see Black Panther in 3D or will a regular screening suit you just fine?
A few days ahead of the film's Feb. 16 release, reactions seemed mixed. That tends to be the case with 3D regardless of the movie being talked about, because some people hate it and some people love it based entirely on their personal preferences. But fans on Reddit chatting about Black Panther specifically had some insights to share on seeing the movie in 3D.
Reddit user JasonZod mentioned that they had "been told by several people at recent screenings that the night shots are kind of hard to see and the CGI would probably be better served watching in 2D." After hearing those reactions, JasonZod posed the question to the community: was it even worth seeing Black Panther in 3D?
Redditor nguyenkhoi282 answered that issues with visibility in the night shots could be helped by watching the film in 3D in IMAX, adding, "Some said to me the 3D was fine." Hardly a ringing endorsement, but definitely not a deterrent either.
Other users were less hopeful, however. FiscalReports discouraged checking out Black Panther in 3D, suggesting viewers stick to 2D even if attending an IMAX showing because "3D also sucks in IMAX." It didn't seem like user justindb29 had seen Black Panther in 3D, but mentioned that Guardians of the Galaxy 2 was too visually distracting in 3D and they regretted having skipped the 2D.
Once again it's a matter of opinion, though Black Panther certainly seems to be aesthetically stylish enough to not need the extra boost provided by 3D. The Hollywood Reporter praised how the film looked, remaking on "vistas, costumes, and settings that keep the images popping off the screen, even though this Marvel offering is not in 3D."
Fansided didn't have a clear answer on whether Black Panther would be better to watch in 3D, either. But they did mention that "the sights and sounds of Wakanda should be an amazing visual experience" that that could "only look better in an enhanced viewing experience." Basically, the consensus seems to be that Black Panther is good regardless of how you watch it, and will likely remain so across mediums. Fansided conceded that "whether you view this movie in standard, 3D, or something else, it should be a worthwhile time at the theater."
It seems as though the popularity of 3D is waning, with Collider reporting last year that IMAX was reducing their number of 3D showings in North America because audiences simply didn't respond to it as favorably. While some movies were made even more enjoyable with the technology, for most that just wasn't the case. Films weren't any more exciting to see in 3D than 2D, making the 3D showings ultimately kind of pointless.
If you're a fan of 3D, then you probably already know it and you're probably already planning on settling in for a 3D showing of Black Panther. But if you remain on the fence, then it isn't necessary to cough up the extra cash and strap on your 3D glasses. The film might gain some extra flair when it's literally exploding off the screen, but its look has already garnered so much praise that it probably can't be improved upon that drastically. Black Panther is already great, and it doesn't seem to need embellishment.
Check out Romper's new video series, Romper's Doula Diaries:
Watch full episodes of Romper's Doula Diaries on Facebook Watch.