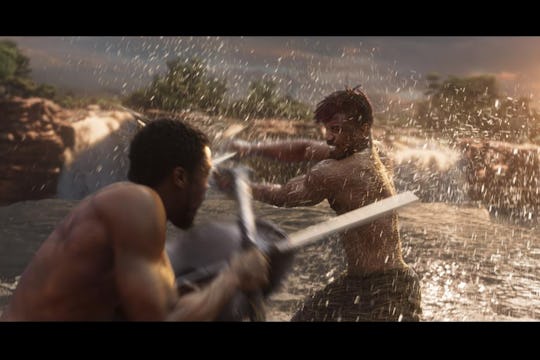 Marvel Studios
You Absolutely Should See 'Black Panther' In IMAX — Here's Why
Some movies shouldn't be seen on anything less than a huge screen with surround sound and a bucket of buttery popcorn in your lap. And so, the question of whether or not you should see Black Panther in IMAX when it premieres on Feb. 16 is really a no-brainer... the answer is "yes." Don't think too much about spending a bit more on IMAX tickets and here's why.
Marvel Entertainment's Black Panther has been specially formatted for IMAX theaters, according to Screen Rant, which means that these showings will feature aspects that may not be viewed in normal movie theaters. According to an official IMAX tweet, "Fit for royalty. #BlackPanther is specially formatted to show up to 26% more image in IMAX." This means that this highly-anticipated film will feature imaging that is not available on general movie screens.
The film's director, Ryan Coogler, has produced an elaborate movie set, according to Fandango, which takes place in the fictional African nation of Wakanda. The detailed civilization featured in the movie was built by the production crew from scratch and was filmed in the highest of quality, as reported by Screen Rant.
To purchase IMAX tickets for the film, you can find tickets available in your area on IMAX.com. Also on the site is a synopsis of the film and sweepstakes that fans can choose to enter. Winners of the Black Panther IMAX Sweepstakes can take home an exclusive statue, along with IMAX movie tickets.
Yes, IMAX movie tickets are more expensive than normal movie tickets, as Screen Rant reported, in the same way that 3-D movies charge more as well. But, for those looking for extra high quality when watching Black Panther, they could be a good well worth the money.
Often films are shot normally and then are altered in order to be shown in IMAX theaters. Heroic Hollywood has reported that this was not the case with Black Panther, which is why the film quality is better. Shooting in IMAX has become increasingly popular, especially when it comes to action or superhero movies, according to Heroic Hollywood. In 2008, The Dark Knight became the first mainstream feature film to be partially shot by using IMAX cameras, according to Entertainment Weekly. The Dark Knight used IMAX cameras for 28 minutes of footage.
Black Panther appears to be following in the footsteps of The Dark Knight and taking its IMAX aspects a step further. In an interview with The Game Stop, Black Panther director Coogler said that IMAX is definitely the way to go when seeing this film, explaining:
I love the format. For me, it's the best way to see a movie. To hear it, to see it, to sit right in it. For us to be able to make this film, we got almost an hour of additional footage where we open up and use the full IMAX screen ... We use it when we go into Wakanda, when we go into these spaces that are important to our characters.
Coogler also said that the IMAX format really works well with the story of the movie.
It was reported that Black Panther actually scored a 97 percent rating on Rotten Tomatoes, and the reviews have been quite good so far. The movie has a cast of stars including Chadwick Boseman, Michael B. Jordan, Lupita Nyong'o, Angela Bassett, Danai Gurira, Martin Freeman, Forest Whitaker, and Andy Serkis, among several others, according to Variety.
With the movie being specially filmed, specifically for IMAX, it only makes sense to see Black Panther in IMAX theaters, right? Plus, it has an all-star cast and is soon to become a staple in the Marvel Entertainment family's movie collection.
Check out Romper's new video series, Romper's Doula Diaries:
Watch full episodes of Romper's Doula Diaries on Facebook Watch.